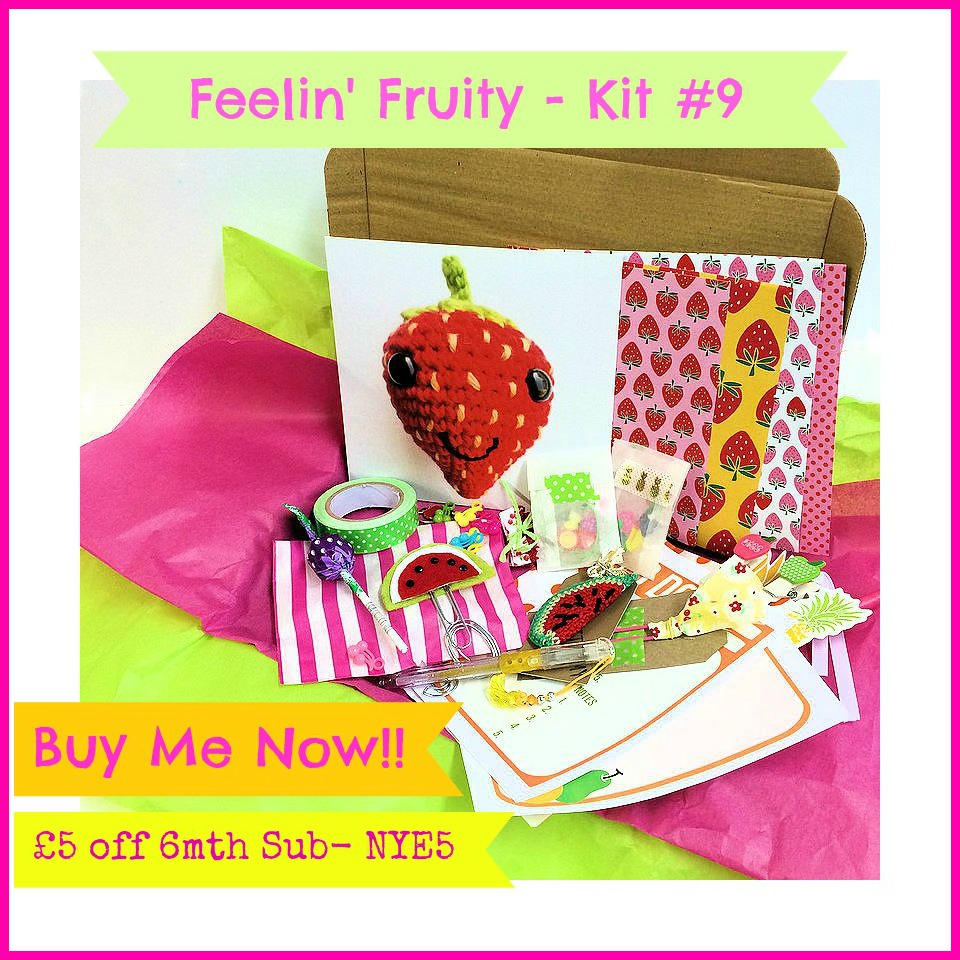 Happy New Year!!!! I hope you've had fun celebrating.
I'm now in the 'needing to freshen up for 2016' zone. I want to blitz everything, get reorganised, freshen up and get healthy again. A few too many cheeseboards for me this year!! This is why I decided to go with a fruity theme this month. I like each month to have a whole new feel. I don't want the Lollipop Kits to feel samey. So this month we are going with Fun, Funky & Fresh. Saying that though….they'll always be an element of prettiness to these kits. Look at these gorgeous fabric clips I made.
They are huge clips and the fabric is so pretty with little cherries on it, I just couldn't resist. I've given up trying to stick to a budget for these kits….I just love making them and finding treats to go inside the boxes so much, that every month I end up going over board. I have to face it, I'll never be business woman of the year…but hey!! I'm happy and I'm having fun. I think that's important. And equally I hope that these kits make you feel happy and give you lots of fun too.
The kits are full of cuteness this month…..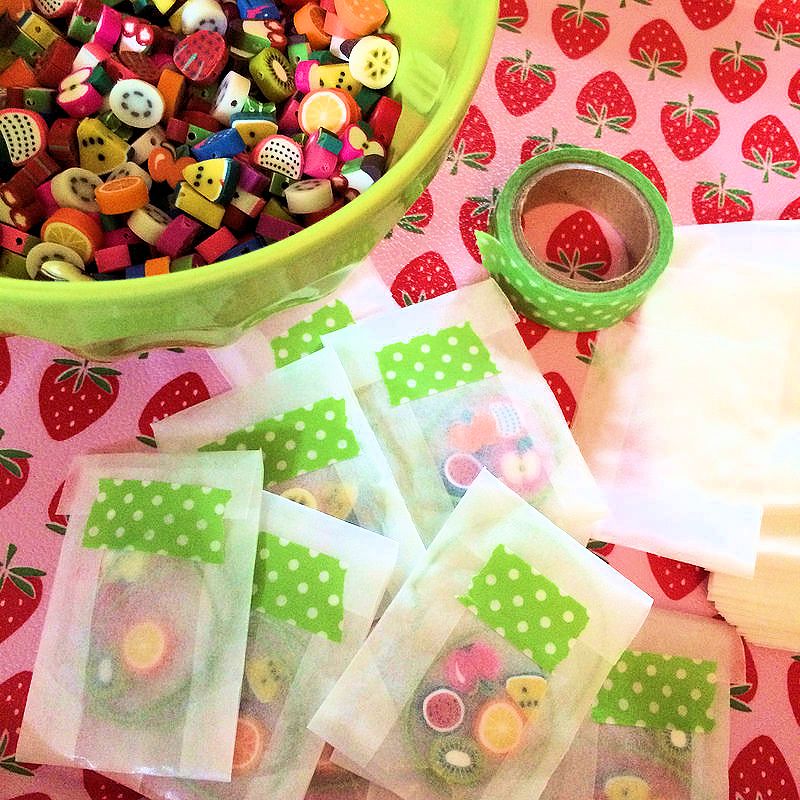 This kit has a lot of mystery packages for you to open. You will also receive a fruity gel pen, erasers, a big roll of fabric washi tape, a rather cute DIY Kit, some really gorgeous papers, notelets, clips, embellishments, personalised lists and loads, loads more. Lots of secret surprises coming your way.
We are collaborating with the beautiful Charlotte Amy Designs this month who has been very very busy creating for us.  More will be revealed soon. And we are also collaborating with the lovely Tracy from Eden Reborn. These ladies are so talented. I can't wait to share more with you.
If you haven't subscribed with us yet I have a New Years offer for you. Simply type NYE5 when you check out and you will receive £5 off your first kit when you subscribe for 6 months. Let's face it, after Christmas we all need to tighten our purse strings, but we still need things to cheer us up and get us through the month. So what better way than receiving a happy mail kit for just £10 in the month of January. You can subscribe here.  No contract, no ties, you can cancel any time.
And not to leave out my lovely loyal subscribers ….there is any extra little something in your kits this month as a 'thank you' and I have something else too.
I have 8 fruity rolls of tape. If you are a subscriber, please leave a message saying 'I'm feeling fruity' and 8 of you will be picked and you will receive a free roll of fun tape in this months kit.
I think that's it for now. Remember one off kits are now on sale. And tomorrow I have a really cool giveaway for everyone to enter.
Thank you and I hope you have a wonderful 2016.
Lots of love Lisa xxx