April Sketch Inspiration
Hi Lollipop Friends!
I am just loving this months  'Here Comes the Sun' Kit and it was just perfect for a sweet photo I had of my twins and their besties on a rainy day. You can also take a closer look at how my 12×12 layout came together in my process video.

As soon as I saw the sketch in this months Creative-Zine, I was excited to use it as the inspiration for my page. I started off by creating a 'rainy' mixed media background using distress oxide ink pads. I swiped them onto a plain sheet of mixed media card and then added dabs and drips of water to give it a lovely wet look. A few ink splatters and sprays worked well to build layers of interest. Stencilled raindrops, using a sweet raindrop stencil from the online store and shimmery texture paste, were the perfect rainy day touch.

With my background complete, I added a few layers to my photo, using a piece of blue packaging from the kit, directly behind my photo, as well as two pieces of the pretty patterned papers. I layered this little stack on top of a cute cloud post it note from the kit and then set to work making a bright sunshine. Using the glorious yellow patterned paper, I cut a circle and sun rays, then added some embroidery stitching. The sunshine worked perfectly to the right of my photo, just like the sketch.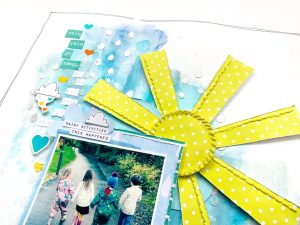 I used the gorgeous cork word pieces from this months collaboration Peartree Cutfiles – the perfect title for my photo! The embellishments and stickers from this kit are so fun and easy to add here and there for extra interest. The wellies especially, complimented my photo so nicely!

The little alpha stickers were fab for adding in extra little phrases that I wanted to include too. I finished off my layout with a few sweet stickers from the kit and a simple doodled border.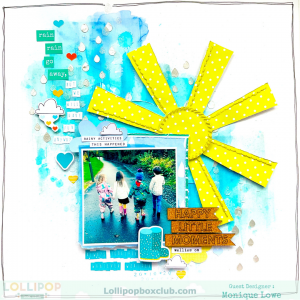 Thanks so much for stopping by today! I really hope you feel inspired to get creating with the fun April Kit too!
Much Love,
Monique 💗