Hi Lollipops
How are you all doing? How are we in April already! Its certainly been a chilly start to the month, but hopefully the weather will get better as we get closer to Easter.
I have some mixed-media cards for you today that I made using the left over bits of the March kit. I created a background using the bits of the papers that I had left – I tore them all into strips and then stuck them to a piece of 12×12 card-stock.  Make sure to mix all the designs up, I also added some dictionary paper to add a little contrast.  Once the card was covered, I spread some gesso over the whole sheet using an old credit card.  Once this was dry, I stencilled some pattern on using black paint, added black and white splatters and then used a roller stamp to add some gold hearts. I then trimmed half an inch off two sides of the card and cut it into 4 equal pieces.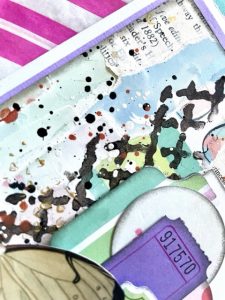 Using my leftover embellishments and stickers from the kit, along with the journalling and postcards I created embellishment clusters on each piece and stuck them down using glue and pop dots. I also added in some butterfly embellishments from my stash.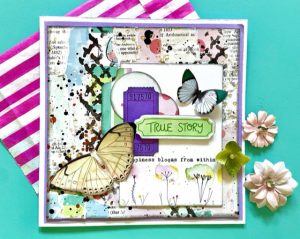 Once each card front was complete I cut some purple card-stock to back each square.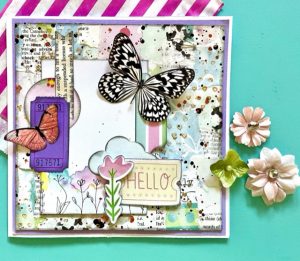 And then attached them to a card blank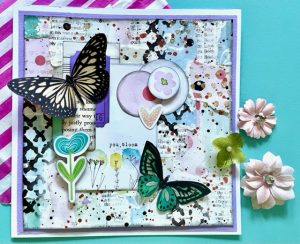 I am really pleased with how well the cards have turned out and it's always really useful to have some made cards to hand for birthdays or other occasions.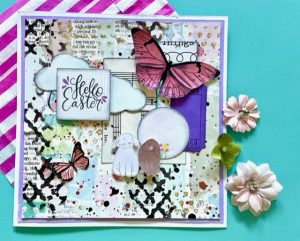 Using up leftover bits of kits and embellishment packs is a great way to make cards – its a lot of fun as well.
I am back at the end of the month with the new April kit!
Lots of love
Carrie xo