Sunny Mixed Media & DIY Florals
Hi creative friends!
I am so excited to be guest designing for Lollipop Box Club this month! I have been getting stuck into the beautiful March 'Some Bunny Loves You' kit and it is just filled with Spring time joy! You can take a closer look at the kit and how my 12 x 12 layout came together in my process video.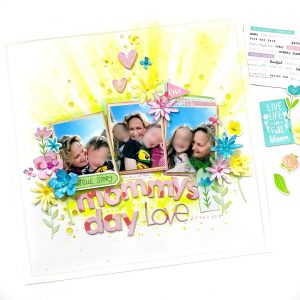 As soon as I opened it up, I knew I wanted to create a Mother's Day layout. This kit has such a sunny feel to it, which perfectly matched the glorious sunshine on Mother's Day recently. The lovely sketch in the Creative Zine provided great inspiration for my layout too.
I started off by creating my background on mixed media cardstock. I used a beautiful, sunshiny yellow mist along with a large sunburst stencil to layer lots of sun rays on the top half of my page. The layered effect really gives a sense of warm sunshine – one of my favourite things! I also added a hint of lime green to the bottom half of my layout by using a sponge to dab on a little bit of diluted ink. This is really easy to do by stamping an ink pad, in your chosen colour, directly onto a piece of discarded plastic packaging, adding a drop of water to it and then dabbing it up with a sponge. I then used the sponge to gently dab the ink onto my page.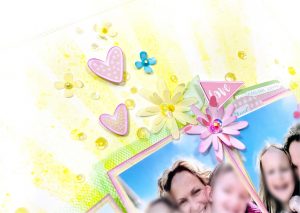 With my sunny background complete, I set to embellishing my layout and adding my photos. I mounted each photo using the pretty floral patterned paper in the kit, as well as the packaging the papers came in – a lovely yellow envelope. I love that every part of the kit can be used in some way!
I wanted to have lots of florals so used four of the patterned papers, along with some of my own metal dies to cut out a variety of flower and leaf shapes. I wanted the flowers to have lots of dimension so cut florals in various sizes so that I could layer them on top of each other to give a 3D effect. Once cut, I glued a smaller floral on top of a larger flower. I inked the edges using coordinating colours and then added a touch of sparkle to the centres by adding clusters of gems, sequins and pearls.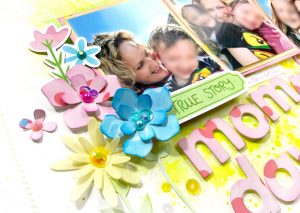 I used the flowers and leaves to create a visual triangle around my photos, really helping to draw the eye to my pics. Then it was time to add in a few sweet ephemera pieces from the kit, some lovely phrase stickers and tabs and, not forgetting the lovely soft touch of green behind the photos from the pretty tule from the subscriber treat bag.
I finished off my layout with a scattering of yellow sequins and a die cut title using the lovely pink polka dot patterned paper.

I really hope something you've seen here inspires a new idea for you and that you enjoy getting creative with the lovely March kit.
Thanks for stopping by and happy crafting!
Much love,
Monique 💗