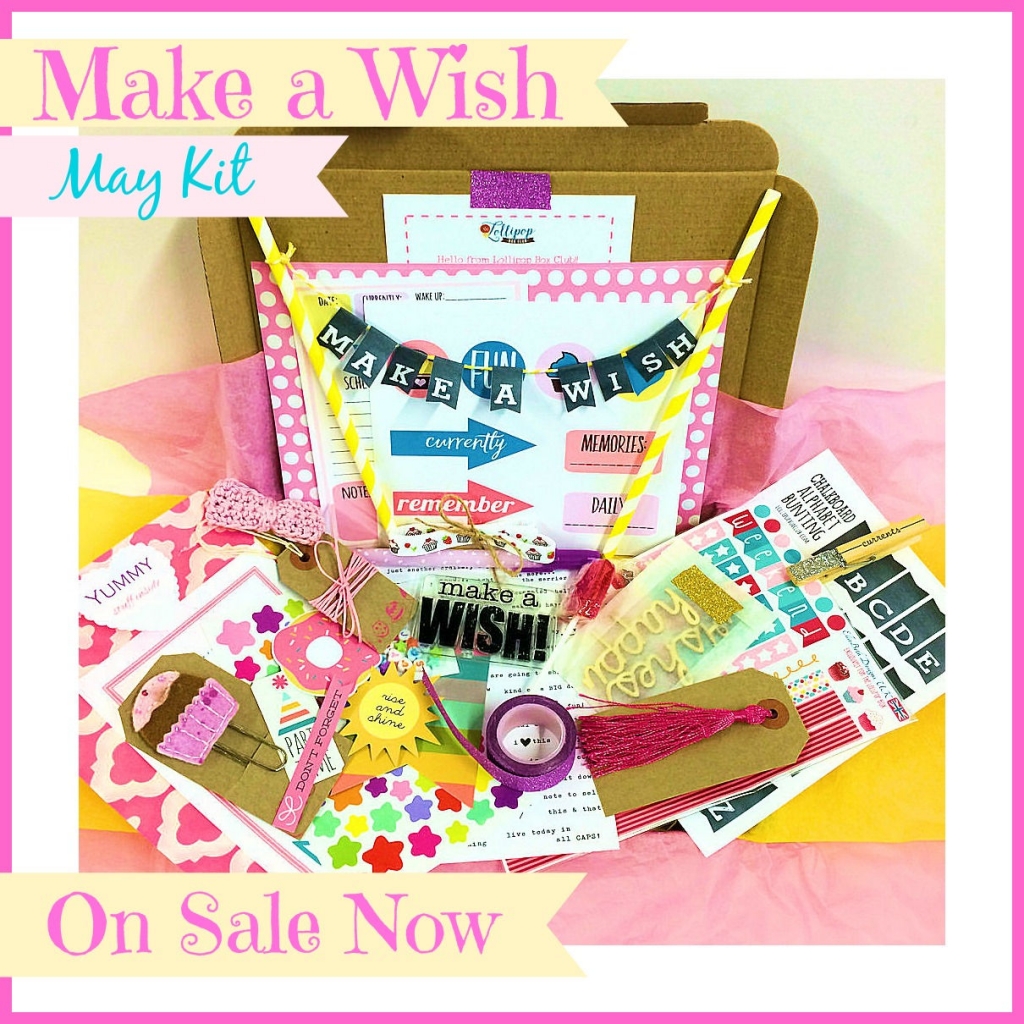 May Kit #13 – Make a Wish
It's our 1st Birthday!!!!!!
I'm so happy to share with you our 1st birthday kit.
Come celebrate with us this month for a fun kit full of cupcakes and sparkles. This kit is so much fun.
We have such fun stationery……lots of stickers…..fun embellishments…..cuteness for your planners……lots of crafty bits if you love to scrapbook, journal, decorate your planners or send happy mail. There's surprises, gifts, exclusive items made just for us, lots of little packages, the best DIY kit, personalised lists and all this starting from just £15.
This month we are collaborating with the fabulous EllieBeth Designs. We have an exclusive set of stickers designed just for us to go with this month's special kit.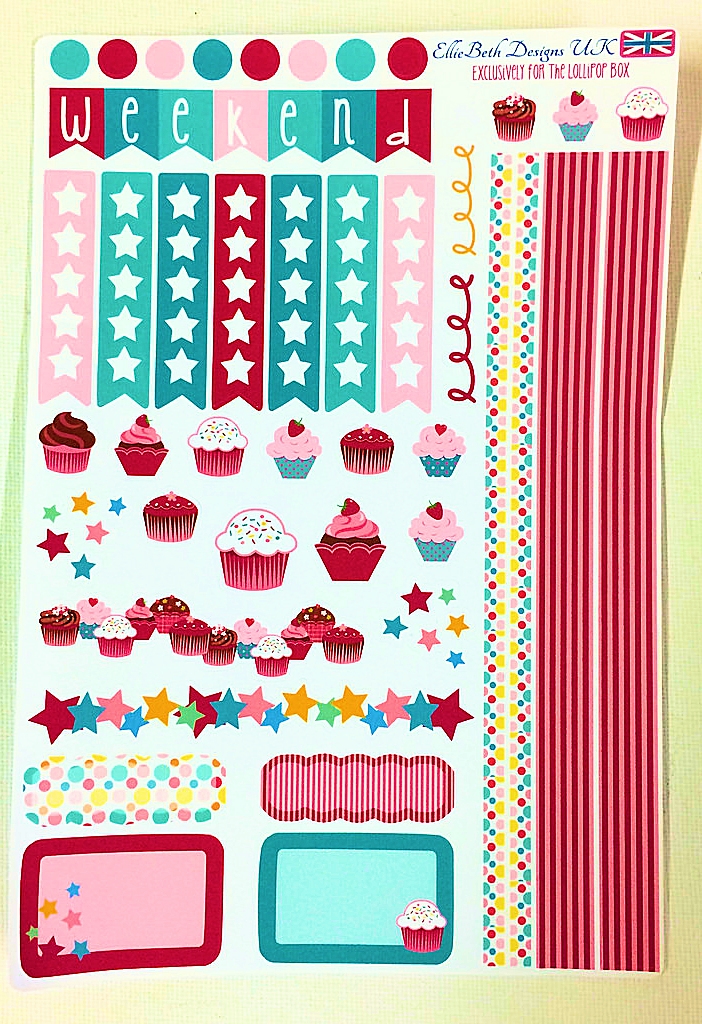 We also have a couple of fun printables, also exclusively designed for us.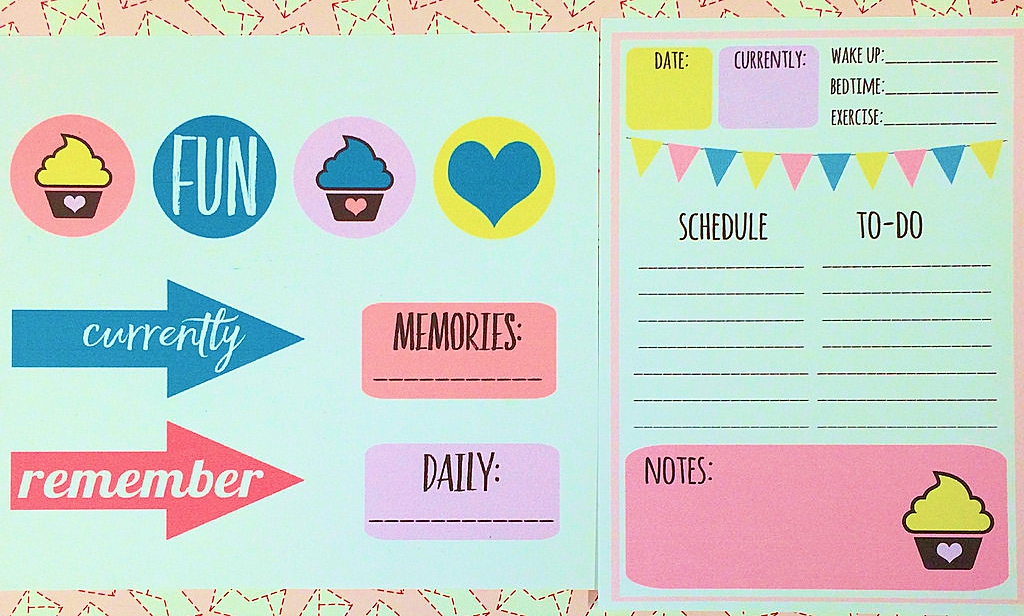 A fun embellishment sheet and a very handy daily to do list. These will be inside the May Kit and also available as a free download for all subscribers.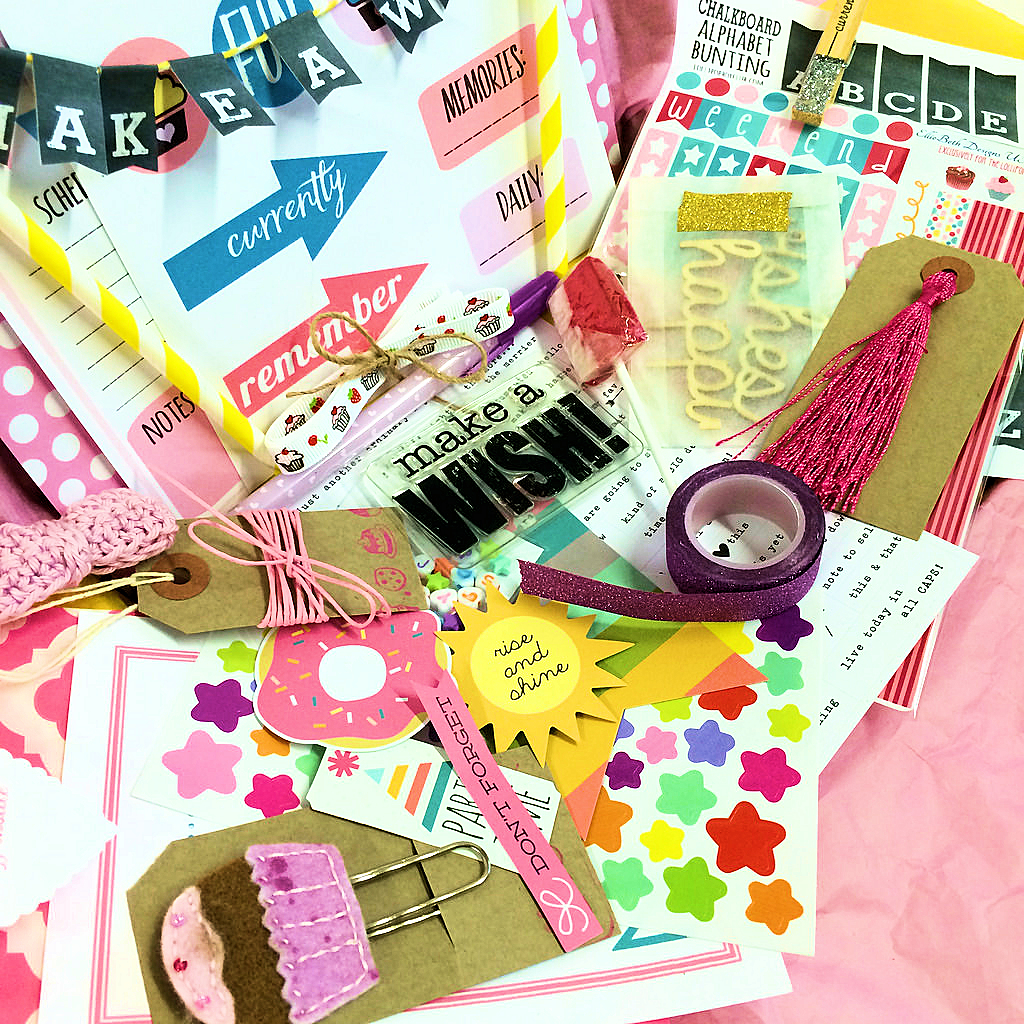 Here's a closer glimpse so you can see what else has been packed in to this box of glee this month.
There's a giant felt cupcake clip made by Andies Accessories  for us. Andrea has made many pieces for our kits now (I hope you loved your cute felt clouds last month?). We have sparkly pink washi tape. Every party box needs pink sparkly washi tape!! We have some fun stickers & bits and bobs from the Carp Diem collection from Simple Stories……LOVE!! A fun stamp, tassels, ribbon  and lots more exciting treats for you to find. There's just so much in there this month as you can see.
If you subscribe to this kit, not only will you receive your kit at a discounted price you will also receive extras in your happy mail box. So don't miss out on this month's super cute happy mail. There are a limited amount made.
Remember, a large amount of the kit is kept secret so you get a surprise when it arrives. On the blog during the month of May, there will be lots of inspiration, ideas, tips and recipes to run along side this kit.
You can subscribe here from just £15.00 (free UK delivery) to receive this at a discounted price and this way you are guaranteed a kit each month. There is no contract, you can cancel at any time. As a subscriber you will also receive a special code in your box giving you access to free downloads for you to use time and time again.
The kits will be sent after the middle of the month. There will be regular kit updates on Facebook, Instagram and here on the blog.
Seeing as it's our birthday month and we are celebrating, there will be various offers and giveaways this month.
I am kick starting this today with offering a free May Kit. All you need to do is leave a comment telling me what your favourite type of cupcake is. You have until next Saturday 7th May , 11pm UK to enter – All names will be numbered and one number will be randomly drawn. If you already subscribe, you will receive a refund for this month's kit.
There is one kit to giveaway and this will be sent out with all the other kits after the middle of the month. The winner will be announced here on the blog next Sunday and we will have a new giveaway for you then too.
I hope you are excited about this month's birthday happy mail. You can grab yourself a box of happiness here.
Please continue to stay in touch this month on facebook & instagram, there will be lots more going on this month for you to join in with.
Lots of love and birthday cupcakes, Lisa x