Rainbow Mixed Media – by Monique
Happy Weekend Lollipop Friends!
I'm so happy to be sharing a new layout using the 'Let's Escape' kit and this time I've gone off colour scheme and opted for rainbow instead! In truth, my layout started off looking very different but, it didn't make me feel happy when I looked at it. So, after endless fiddling in an attempt to make me like it more, I scrapped the background and went in a different, more colourful direction! Nothing cheers me up more than bright colours!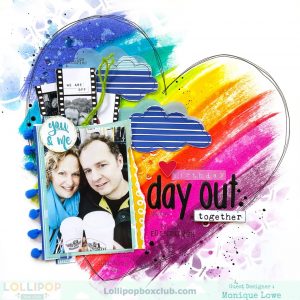 My background began with a sheet of Vicki Boutin's Foundation's Paper as my base. I traced around a large heart shape and then used a rainbow of mini distress ink cubes to swoosh colour across my page. All you need to do is press the ink pad directly onto the card and swipe it across the page. With a black fine tip pen, I doodled the shape of the heart a few times. A bit of stencilling to the top left and bottom right of the heart, using coordinating colours, added a bit of extra interest. I really wanted the stencilling to be subtle so kept the colours soft and used a wet paintbrush to move the ink about a bit, giving it a watercolour look. The joy of foundations paper is that it allows you to move colours around on it, without them being absorbed by the paper immediately.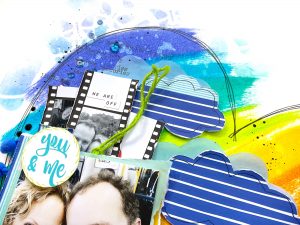 Now to focus on my photo! I really wanted to use the lovely pocket and journal card including in the kit. It was the perfect size as a backing to my photo and ideal as a little hidden pocket for adding bits and pieces to. Before sticking down my photo, I used some of the pretty cloud tissue paper to back my photo, along with some torn strips of blue and yellow patterned paper from the kit. The pom pom trim in the kit is so fun and made a gorgeous edging for my photo. The little cut apart postcard had a lovely 'you & me' sentiment which was perfect for this pic of my hubby and I on a birthday day out in Edinburgh.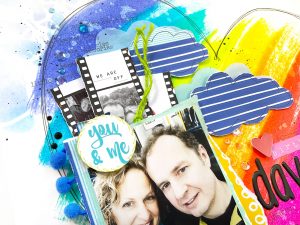 For my previous layout, I went all out filling the awesome film strip patterned paper with photos. I couldn't help doing the same for this page as I had a few extra photos that I didnt want to leave out. I used three 'film strips' and filled them with black and white photos and a few stickers from the kit. I also added a couple little tags to the journal card and tied them together using the gorgeous green twine in the kit.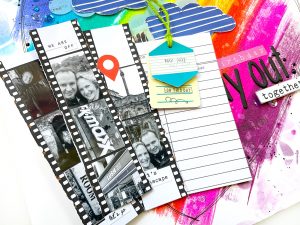 Next, I cut out some clouds using the blue packaging and patterned paper. Using some alphas from my stash, I added in a title and the word 'together' that I cut out from one of the sheets of patterned paper. To finish off my layout I did a bit of subtle text stamping, using little phrase stamps that suited the memory and added in a few black paint splatters, sequins and gems.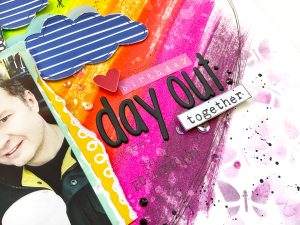 Thank you so much for joining me today! If you'd like to see my page come together, I will have a process video up on Youtube soon. If you'd like a monthly dose of happy mail through your letterbox too, you can subscribe here. Have a happy weekend and I'll be back soon with a sunny new layout using a brand new kit.
Much love,
Monique