Hey Guys
I'm back again with another joirnal page.  The photo is of Ivy just after getting her ears pierced.  She asked for so long but when the opportunities came she walways changed her mind!  Until this day – when she finally went and done it!  She was so pleased!
I chose the Dandilion Wishes paper to use as a background and then worked out the size I wanted to print my photo.  I quite like having over sized ones and love how this one looks on the page.  I added a few strips on the green paper and tore along the edge for a bit more texture.  I like ripping it the way that show a little of the white for something else to look at.

I fussy cut around some of the scallops andslid themunder the torn green paper so they were just peeking out.  I really liked the red against the background.  I've added some of the graph paper to the left page so that I can use it as little journalling spot too.  To complete the page I made a bunch of little clusters on the page.  Layering up different stickers, die cuts, wooden stars and enamel dots to create lots of different textures and points of interest.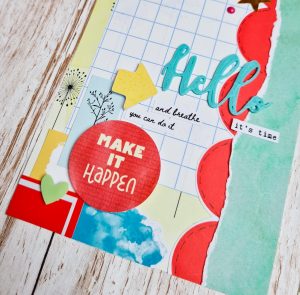 This page took about 20 minutes to make including printing my photoso it really goes to show that even if you can only do little and often it really does help you keep up with saving all those stories in your journal.
Thanks for reading!
Vicki