Back To School Tag Book by Lorraine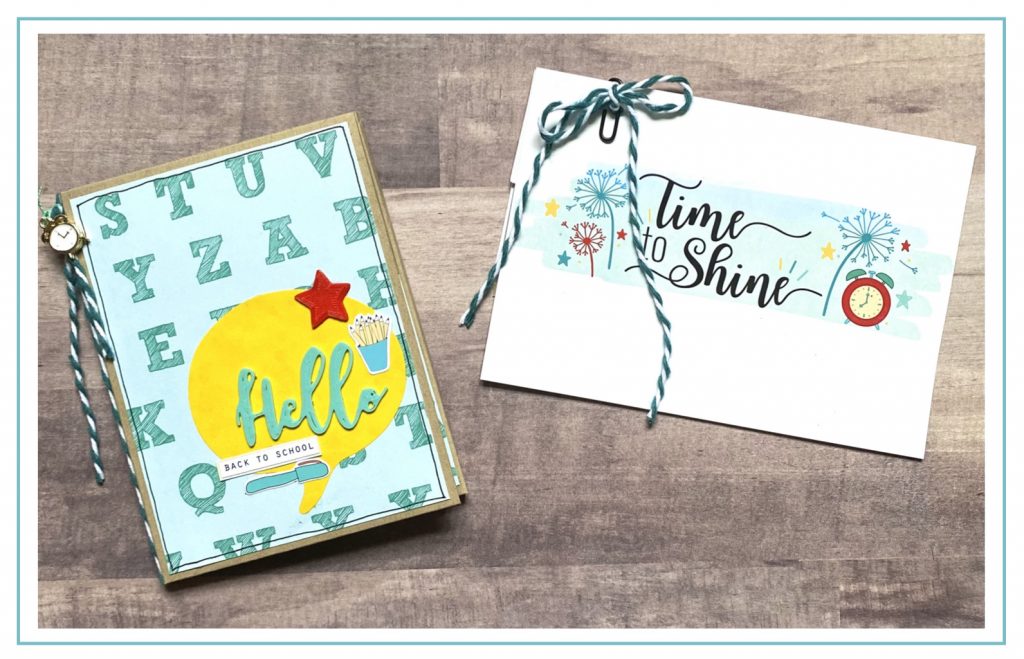 The book is made from one piece of 12×12 cardstock, I used Kraft as this went great with the theme and also tones in the Time to Shine Kit. To create the folder element of the book simply score at 3 3/4″, and then at 4″ and then again at 7 7/8`' and 8 1/8″.
Turn the cardstock 90 degrees and score again at 2 1/8″ and 7 1/4″.  Create a crisp fold with a bone folder. Gut two section from in between the two scored lines as template in black. Fold as using image of opened book as a guide. The top flaps can be trimmed down slightly, example below has 1″ trimmed from the height.
Each pocket of the book was folded up and secured with strong glue or tape. I decided to cut each pocket in a different style before adhering, the first a straight edge, the second a banner and the third at a slant.
Decorating the book was super fun, I created scalloped edging for the top flaps, and panels using the patterned paper. There are so many stickers and elements in this months kit you can make it just as you want it to be. The jar on my middle page is from a previous kit.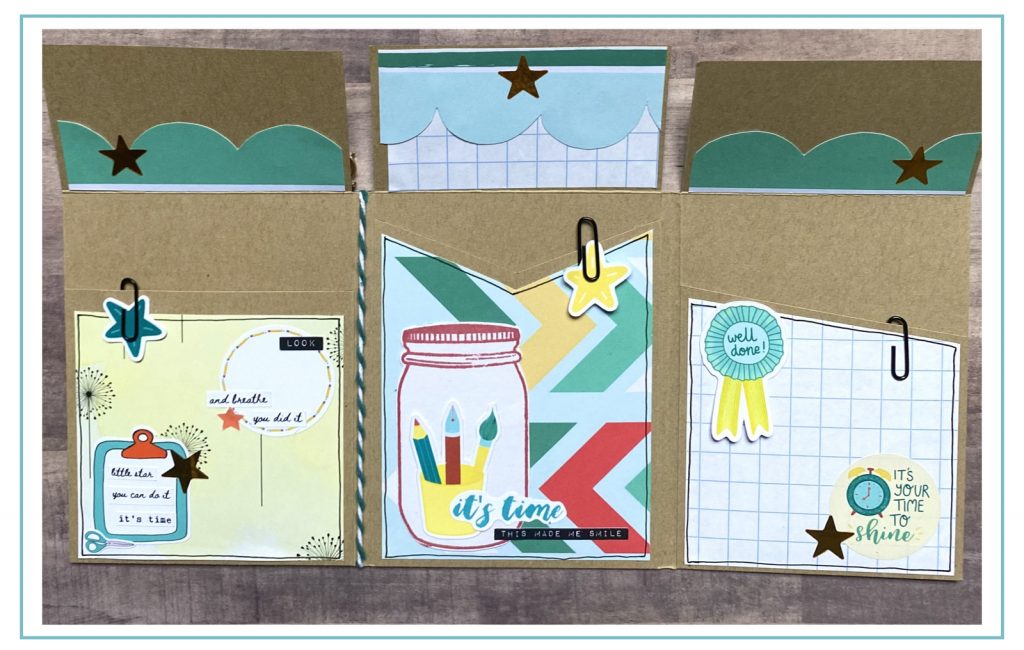 Inside each of the pockets is a tag, these were made from Kraft cardstock and each decorated with elements from the kit, I love the post it note speech bubble! The little owls were made using a punch from my own stash, as were the tabs to the top of each tag.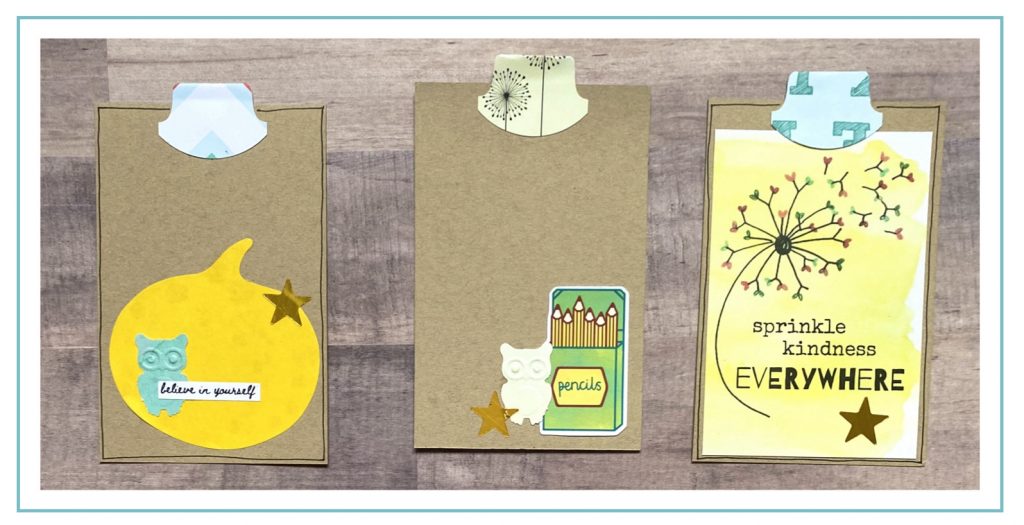 The reverse of each tag is also decorated and each tag has space for my granddaughter to document about her first week in a new class and add passport sized photos so she can remember the day. It was special day back for my granddaughter as she has become a big sister over the Summer.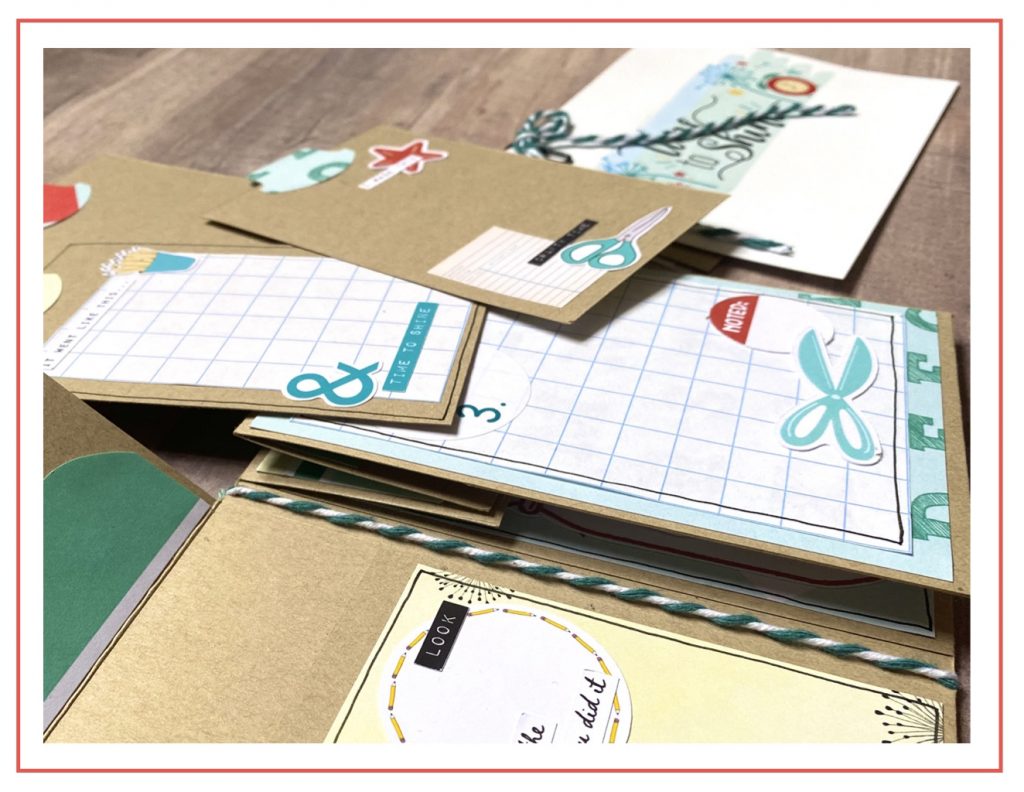 I used the lovely teal bakers twine to the spine of the folder and tied the cute clock charm to this. The front cover is decorated with the alphabet patterned paper, yellow speech bubble post it note, Shenanigans elements and stickers. I gifted this to my granddaughter along with the Time to Shine postcard and a message on the back, clipped to this is the mini alphabet stickers and remaining gold stars so she can add her own finishing touches when adding her chosen photos.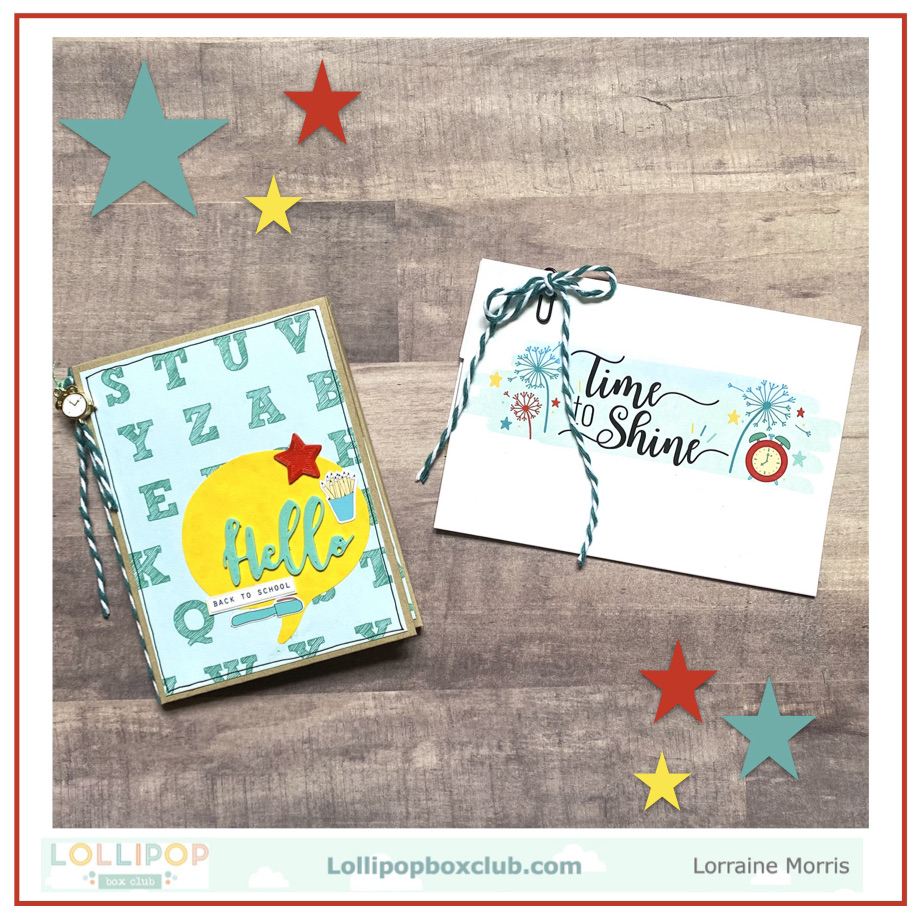 Thank you for joining me today,
Lorraine xxx