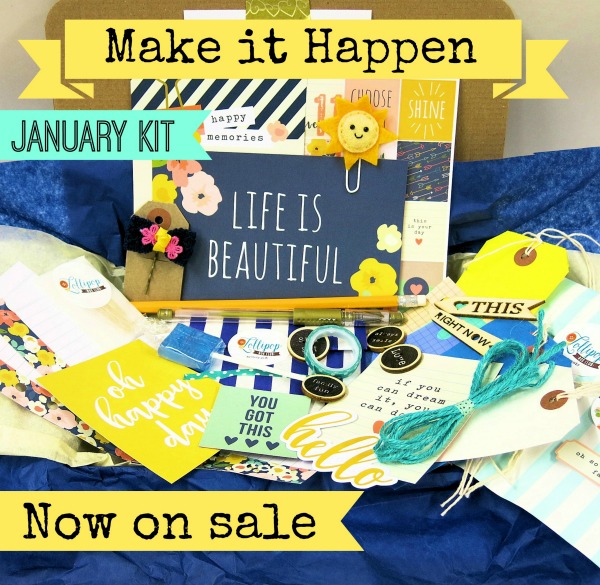 This is a fun, sunny, happy kit. Everything you need to brighten up January your day.
Here at Lollipop Box Club, January will be all about making goals, fresh starts, positive thoughts and moving forward. I have so much in store for you. We will be getting organised, we will be journaling and so much more. This is such a happy kit to start us off in 2017. You will not want to miss it.
To receive this kit at a discounted price and to receive the subscriber extras, you can now sign up here. One off Kits are also available.
It's going to be such an inspirational month around here…..I can not wait!!
Each kit will contain an exclusive 'Make it happen' Lollipop Box Club pencil, a gold metallic pen, inspirational cards and ephemera from Simple Stories (these will vary from kit to kit), handmade washi tape, large felt kawaii sunshine paper clip, Stickers, papers, more stationery, embellishments and the best DIY/Mystery Gift to date. It's a lovely surprise this month and it's combined. You will have to wait and see what that's all about. And lots of surprises on top of all of this. It's a great start for us this year!!
This month we are collaborating with the very lovely Geraldine Jayne.
All the kits will be shipped together after the middle of January.
The blog will run along side the kit for the month of January giving you lots of ideas and tips on how to use the kit.