Hanging Photo Frame by Lorraine
.
Hello there,
Lorraine here today sharing a super cute and quick project using the May Kit here.
My granddaughter asked me to make a 'hanging photo frame' for her bedroom with a photo of her with two of her favourite Lego Friends characters, taken at a recent visit to Legoland. The colours in the photo and the Lego Friends sets with bows and cakes went so well with May't kit, especially the beautiful purple gingham fabric.  To create the base I covered a piece of medium weight card with the fabric, approximately 6"x4" in size, adhering a further piece of card onto the back and covering the edges of the fabric. I placed a strip of the Washi tape around the edge for decoration, this also helps protect the edge and corners.
.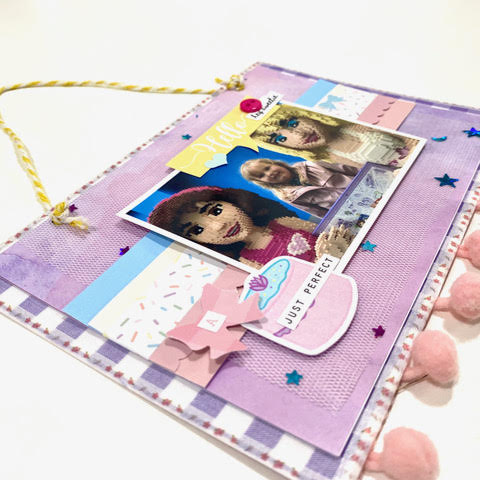 .
The base was then built up with the purple watercolour effect paper,  a layer of the star tulle, strips of colour from the striped paper and 'sprinkles' border sticker running left to right through the centre. I placed the photo on top of these layers used 3D foam. Embellishing this hanging project was quick and fun, I used a cake die cut, 'hello' speech bubble, words strips, bow die and tiny pink button. A hanging cord from the yellow bakers twine was simply secured by hole punching two holes and knotted to the front. As a final touch I used a strip of pompom strip from my own stash. I am looking forward to seeing this hanging in my granddaughters room and remembering our fun trip to Legoland together.
.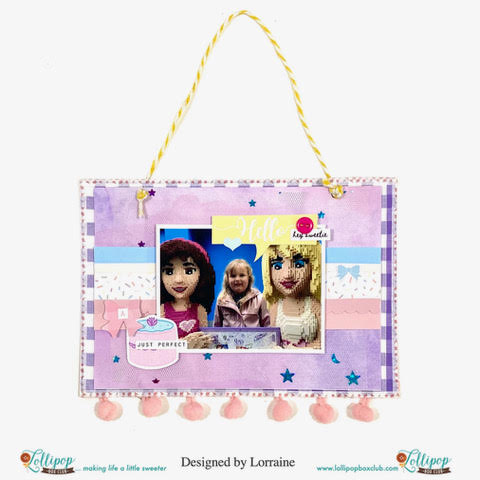 .
I hope I have inspired you to create something s little bit different, although I love 12×12 scrapbook pages and mini books there is something special about 'off the page' home decor projects and seeing these around the home,
Lorraine xxx