We have lots of exciting things going on this month celebrating our birthday month.
Back in January I announced that I was adding a creative team to Lollipop Box Club.
If you missed it, you can read that blog post about our wonderful ladies here.
I just love the extra inspiration that this team brings and I love seeing all the different ideas from them all each month, so I've decided to invite 2 more talented ladies to our team.
Please meet Vicki Punton and Jennifer Grace.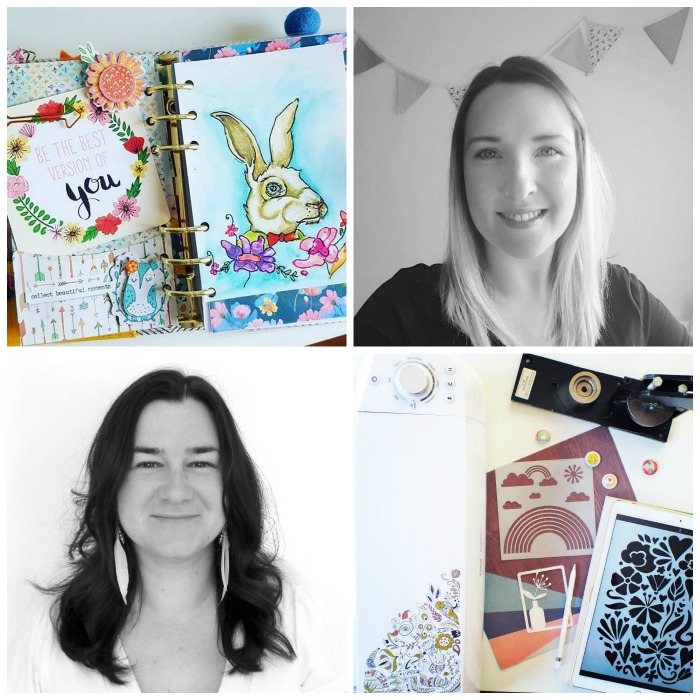 Some of you will know Vicki already (top right). Vicki has been an active member/subscriber of the Lollipop Chat Group for quite some time now. She's constantly been 'wowing' me with her creations that she posts every month using her kit. She's amazing!!
Here's a little bit about Vicki so you can get to know her a little better too:
"Hi, I'm Vicki. I'm 30 and live just outside Edinburgh with my lovely other half, our 2 year old little girl, 1 year old son and 2 dogs! I've just gone back to work part time with the NHS too!
I love planners with lots of stickers to keep us all organised but also like to document our days! Usually using Travellers Notebooks but I've just started giving 12×12 pages a go and really enjoying it!".

What I love about Vicki is that she turns her creative hand to anything….scrapbooking, planners, home decor….I know you are gong to love her just as much as I do.
**********************************************************************************************
Now on to Jennifer.
I've known of Jennifer within the scrapbooking industry for goodness knows how many years. I was scrolling through Instagram a few months ago in the car and I found a feed and instantly fell in love. I made a note to come back to it as the owner made her own stencils and other bits. It wasn't until another time that I realised the owner was Jennifer. I was so pleased. Jennifer is the owner/creator of Happy Scatter . And Jennifer is the lovely lady who will be making our stencils each month as well as joining our creative team. I will tell you more about the stencils tomorrow.
Here are some more details from the lovely Jennifer:
"I have been a crafter all my life. My mum is a craftsperson too, so she always encouraged me to create, and we love to experiment with different mediums. I've tried scrapbooking, cardmaking, painting, modelling clay, sewing, crochet and jewellery making – to name a few! Now I spend a lot of time designing digitally on my ipad pro, then making products with my designs. Though I still find time to splatter paint and glue things together now and then – it's good therapy!
I had a crafty blog for over 8 years, but I haven't been blogging much over the last year – thanks to my Etsy shops taking off and keeping me busy. I began my Happy Scatter Etsy shop in May 2014 to sell my own stencils and wood veneer shapes. Since then it's grown and grown. I love getting orders from all over the world, and to know that my stencils have been used to create wedding favours, to decorate furniture and wooden baby blocks, as well as on scrapbook pages, other papercrafts, and more. I'm always thinking of new products to try, I just need time to make them all!
When I'm not crafting and designing, I love to read books with happy endings, play family board games that make me laugh, and to pretend I'm a mermaid while swimming off our local Dorset coast.
I am so excited to be working with Lollipop Box Club – each kit is filled with joy and colour, and that matches my outlook on life, so I know it's going to be fun!
You can find me at:
**********************************************************************************************
I'm sure you will agree, both ladies are a wonderful addition to our team. I'm beyond excited to have them join us. I feel so lucky!! Thank you to Vicki and to Jennifer.
If you would also like to be part of our private chat group and see all the creations that everyone is making with the kits and if you would like to share your's too (you don't have to), we would love you to join us here.