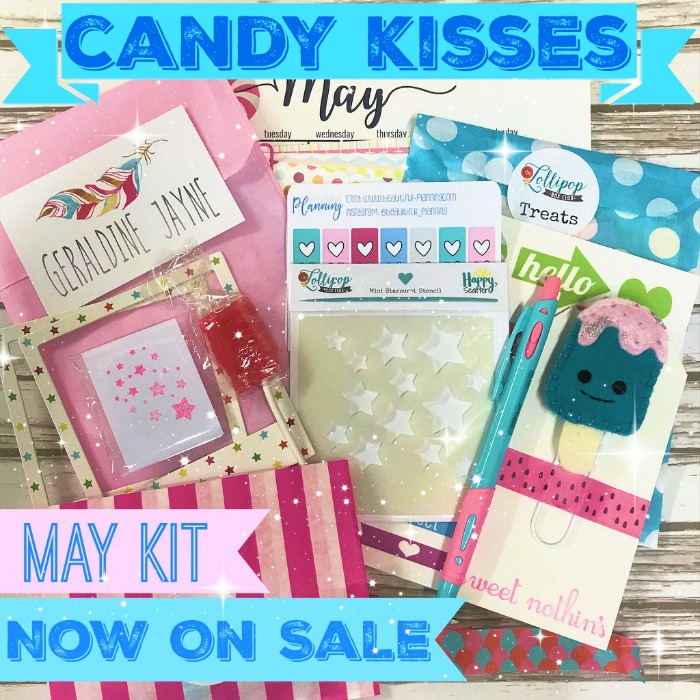 Come and celebrate our second Birthday with us.  It's going to be a 'sweet' one!!
It's all things yummy, sweet and delicious this month. That's what we want when it's a birthday right? Ice cream, cakes, lollipops and candy.
We are so excited to announce that this month we are launching our own brand of exclusive stencils and stamps. There will be one of each in this month's kit for you.
We are collaborating with Geraldine Jayne who has created out DIY kits this month. And we are also have stickers from 'Beautiful Planning'.
 You will receive lots of treats including a sweet handmade lollipop planner clip, exclusively made for us by Andies Accessories, a cute pen, a sweet charm and washi tape.  There's a couple of different sweetie treat bags in your kit this month with various goodies…..embellishments, stationery, lists etc… and then there's also your exclusive printables. Weekly and monthly planners etc…. I have some exclusive artwork for you. And as always a mystery gift!
So much!! And somehow it all fits in our postbox friendly boxes which means your Candy Kisses kit will be sat there waiting for you when you come home….how sweet : )
You can subscribe here to receive your kit at a discounted price, plus subscribers receive a few extras in their kits each month too. Plus the codes to download the printables for free. And every month there are also a few extra treats each month that a few randomly selected subscribers will receive. I have lots of extras to giveaway this month as it's the birthday month.
For those of you who are new to Lollipop Box Club, we never show everything that comes in the kit. There is also the element of surprise.
Please grab one here now, this is going to be the most sweetest month EVER!!
As it's our birthday we have lots of exciting things planned for the whole month.
Subscriptions run until the 16th May (or until stocks last) and all the kits get shipped together mid May. The blog will run alongside the kits for the month of May giving you ideas on how to use your kits.