Scraptherapy Layout – Emma, Project Sparkle
It's time for more Scraptherapy with me! Today I was inspired by a type of layout I have seen a few times and always wanted to give a try, I will have the original inspiration picture linked in the video description. Speaking of the video, you can find the process video here.
(Click the link above to head over the my YouTube Channel & watch the process).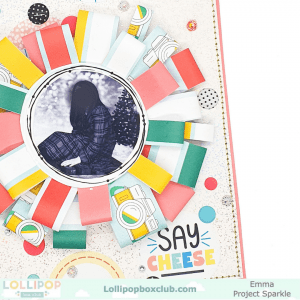 To create this design, I used strips cut from the different kit papers glued to make the half loops you can see peeking out from behind the photo. I stuck those on the back of and around the outside of a circle piece which I fussy cut from one of the kit papers, layering them to create this pretty sunburst type pattern.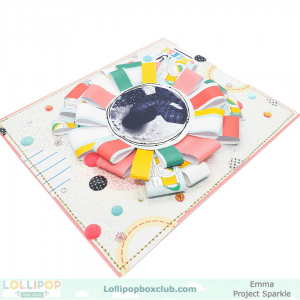 After I finished the central cluster, I decided to stick with a circular theme and add all of the beautiful round elements from the kit, as well as a bunch of pretty gems and enamel dots from my stash. I used up most of the round stickers, cutting them into two smaller sections so that I could use them in double the places, and get them to look as if they were hanging off the edge of the page. I also stitched around the edge of the page with gold thread, and backed the entire layout onto the peach paper from the kit. This helped to bring the colour all the way to the edge and just finish off the overall look.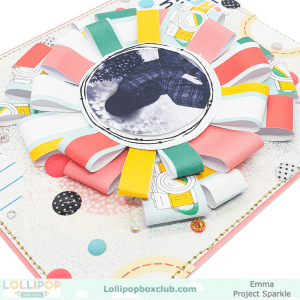 Originally I made this layout without the photo in the center, instead using the circular piece from the kit as a place holder until I found the perfect one. Then I found this gorgeous black and white image which just worked perfectly. Luckily for me, it fit nicely inside my 2 inch circle punch and so it was really easy to add onto the finished layout.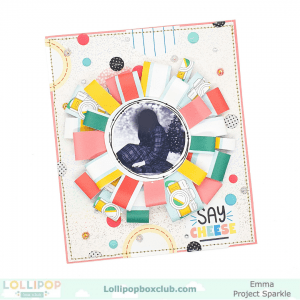 I hope you have enjoyed seeing this miniature layout come together, and crafting with me some more in my Scraptherapy book. Make sure to check out the video, I'll add the link again for you here and I will be back to craft again with you soon.
Emma, Project Sparkle. X