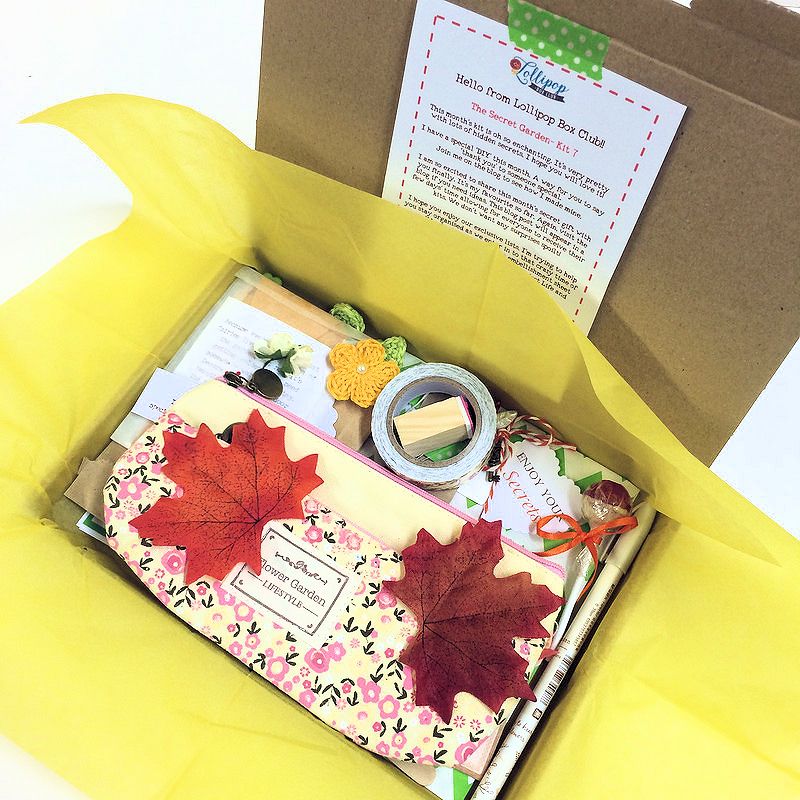 In case you haven't seen what's inside the November Kit yet. I have an unboxing video for you to see. One of out lovely subscribers Kelly Vizma has shared her video on You Tube here. 
I love watching unboxing videos, they are so much fun. A big thank you to Kelly!! The videos are also great to watch if you haven't received one of our kits before. It gives you a good feel of what to expect. There's just the one November Kit left now. Make it your's here.
I am so thrilled and touched by the emails and messages that I've been receiving. It means so much to me. The kits are very personal as so much is made by hand. I love making all the cute packaging and adding little personal touches, so when I receive emails saying how much you love the kits it totally makes my day. Here is an email that I received just this week.
 Just a very quick note to say you have blown me away with the last two Lollipop Box Club Boxes – I thought you wouldn't be able to beat last month's but this months….wowee! It was exquisitely packaged and has so much inside it has taken me 3 whole days to slowly unwrap and digest all the contents….it's such a bargain! I can tell how much love, care and patience you put into every box….keep up the good work. I am one very satisfied customer!  Rachel 
And I've been receiving a few emails recently from 2 new subscribers. A mother and her young daughter who open and use their kits together. 
I just wanted to say THANK YOU so very very much for our very first Lollipop Box Club packages. Fae & I were SO excited when we opened them! Everything is just so wonderful & we are planning lovely uses for everything! The toadstools are gorgeous & we love so much our personalised wish lists and little messages from you. We loved everything!! It was really special mail. Thank you for making everything so perfect & we are already looking forward to next month. I know Fae & I are going to want to subscribe forever! We keep looking on your blog…It's great. Really fun & inspiring and it really makes it all feel like a really special club : )  Love it all so much & thank you for welcoming us so warmly. Ellen & Fae. 
I can't tell you how happy this makes me feel.
Thank you so so much to everyone who has emailed or messages and shared your lovely photos on social media too. It means the world to me. You can read more happy mail here.
Sending you all lots of love today. Lisa x