When life gives you lemons card –
By Katharine Burchell
.
I'd like to welcome Katharine to the blog today. Katharine is guest designing for us this month and this is the first of her 2 projects.
.
A quick and simple card to give to a friend.
Using the 'When Life Gives You Lemons' Kit here.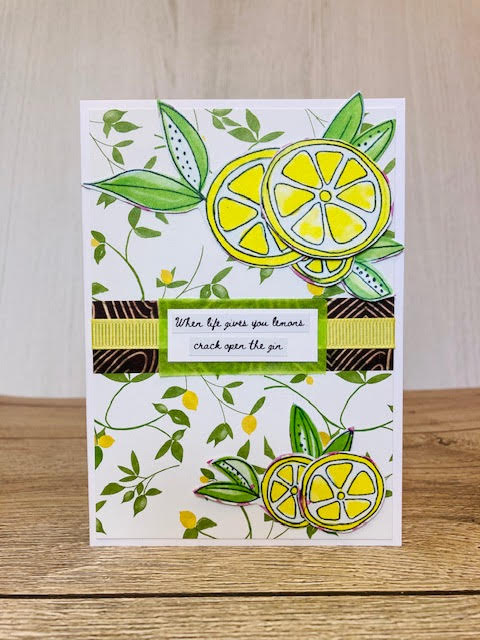 .
You'll need 
Hand painted lemon paper

Pattern small lemon paper

Mama makes washi

Yellow ribbon 

Black 4"x6" card 

Mrs Brimbles stickers

Piece of white card

Green tissue paper
To make
Cut the small pattern lemon paper to 10cm x 14cm. This will be the background paper for the card

Fussy cut the lemons out of the hand drawn lemon paper, along with some leaves.

Roughly in the centre of the background paper put two strips of washi side by side across the paper

Stick the yellow ribbon on top to hide the join. Stick the background piece to the blank card.

Sticker the sticker that says "when life gives you lemons" on to a piece of card 5cm x 1.8cm. Then stick another sticker that says "crack open the gin" underneath.

Back it with green tissue paper from the box and stick to the centre of the card over the ribbon.

Using two of the larger lemons and smaller one, layer them on top on each using a foam pad. Add leaves, then stick to the top right/ middle of the card.

Stick two of the smaller lemons at the bottom layered on top of each other, with a foam pad underneath the top one. Add some leaves.
.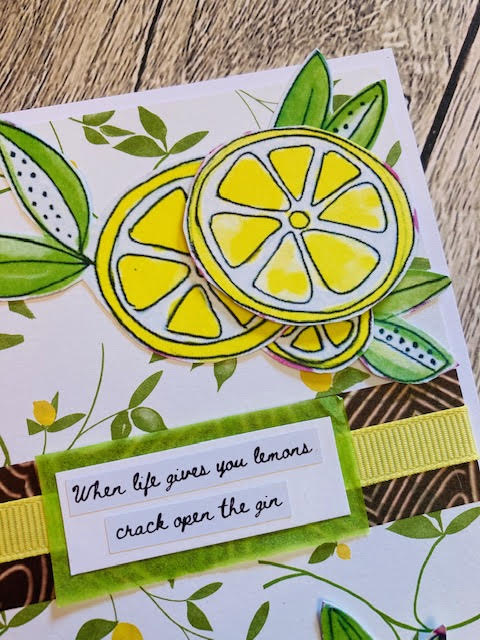 .
Thank you so much Katharine. Your card is beautiful.
Have a lovely weekend xx