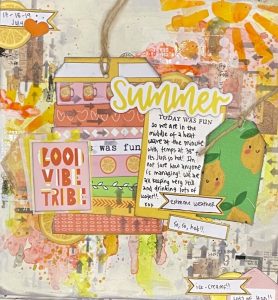 Hello Lollipops and Happy August!
I am back again with another art journal page, using this months 'Citrus Twist" kit. I had great fun playing and getting really messy making this one and art journalling is really great for that. Just spending some time with paints and papers and relaxing through the process.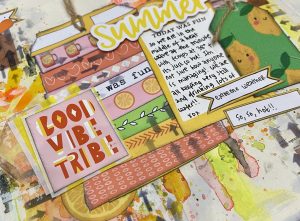 I gesso'd the page and then used my Caran Dache art crayons to create the sploshy background. I then went through my old Lollipop stencils and found the sun one – which worked really well here and stencilled it on my background using paint. I also used some black ink and the arrows stencil from last month to add some more depth to the page.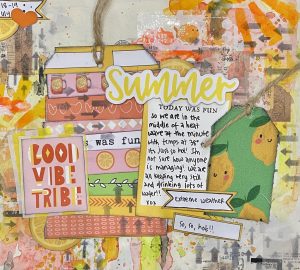 I covered two of the tags from the kit – one in strips of the papers and the other in that really awesome lemon fabric.  Inking all the edges and pulling some embellishments and stickers from the kit I created my focal point and added my journalling.  I decided to journal about the really hot weather that we were having as the droopy paint in the background reminded me of melting!
I will be back on the 23rd with a new 12×12 page using the 'Going Places' kit!
Carrie xo