Hi there Lollipop Friends!
Today I am sharing my last project with you as a member of Lisa's Lollipop Box Club Design Team. I have loved working with her gorgeous kits over the past couple of years, first as a Guest Designer and then as a DT member. I've tried to push myself to find different ways to use all the lovely elements included in each months kit and I hope I've done that again with this project.
As many of you especially Lisa will know, I love fabric and threads so I was super excited to get the little piece of lemon fabric, netting and green sequin thread included in the Citrus Twist kit. I decided to make a mini album documenting two very special days I spent in London with my youngest daughter when she was over from Australia.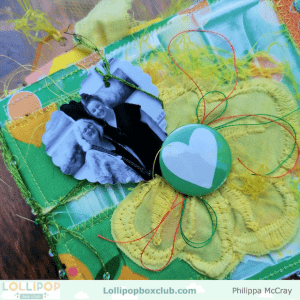 I've tried in each of my blog posts to give you a rough step by step guide as to how I've actually created a project, however, this time you'll have to forgive me…….I was 'in the zone' creating this little album and apart from forgetting to take photos as I went along I just kept adding to it not really knowing which direction it was going in and making it up as I went along!
I have pretty much used most of the kit along with a few extra bits and pieces from my stash. I've used my sewing machine as well as some hand sewing and I'm pleased with how it ended up. Yes, it's messy and one particular friend of mine will have a hissy fit when she sees all my loose threads and rough edges, but that's my style and I'm sticking with it!
Here's some photos and maybe you'll see something that might inspire you or give you a nudge to try something different. If you have any questions, please ask away!
Each page is two pieces of the kit card machined together. I used the fabric to make two tabs which I used to bind the album.
I tied the green sequin thread around the centre of the album and attached one end to my heart shaped photo. One of the flairs was a perfect addition!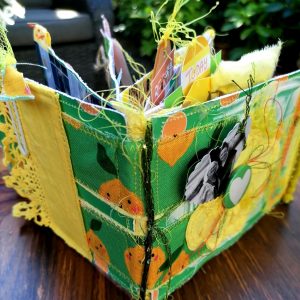 I used the netting to make a pocket to capture the words Sweet Memories and some sequins.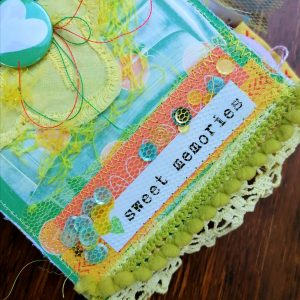 I've used the envelope that had the flairs came in to mount a photo. This gave me somewhere to add the tag and some hidden journalling. I got a bit carried away adding some hand stitching!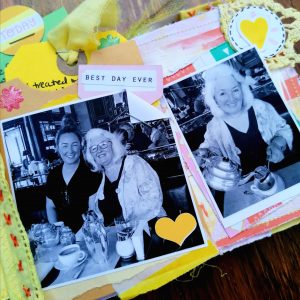 I've used die cuts and bits of fabric from my stash along with the netting to add textural elements.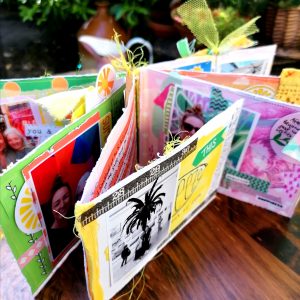 The postcard became a flip out, securing it to the album with a fabric scrap.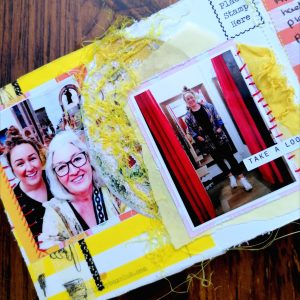 The photo below is one of my favourites.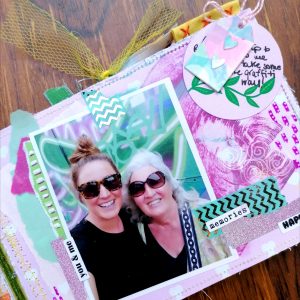 I love the chunkiness of it with all the different bits and pieces sticking out!!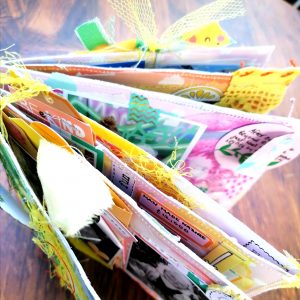 Well, that's me finished! Happy crafting and thank you for all your lovely comments and support during my time on the team it's been greatly appreciated.
Love Philippa x