Art Journaling by Danielle with Video
.
Hiya Lovelies!!
I'm back with another art journal page for you!
I started back using dylusions acrylic paints and a cotton bud to create sprinkle like dots on the page. Then I used papers for the background. I decided to stick down the gingham fabric for a different texture. I also stuck on the baking paper with the recipe text on for some interest. Then I toned down the colours with gesso so it was more in the background. 
.
I then used a dotty stencil and gesso so I could create a resist technique with some dylusions shimmers sprays, (you can get these as an add-on in the shop!). Sadly, I had these a while so the nozzles were semi-blocked and they sprayed where I didn't want them to! I decided to spray with some water so I could move the colour around better and create the effect I wanted. I used a white dylusions spray to try to tone down areas I thought the colour was more intense.
.
After that, I decided I wanted to show through more of the background so I took a baby wipe and wiped some of the areas I want to show through. I then took a palette knife and created lines with gesso on the page. I then stuck the netting on top as another layer. 
.
I used the postcard as a title, (they make such an easy title!) and used the quote stickers to the side of the page. 
.
After this, I used Prima's art extravagance effect paste in 'unicorn' to create a sparkling shimmery effect that I thought looks a little like icing on a cake! 
.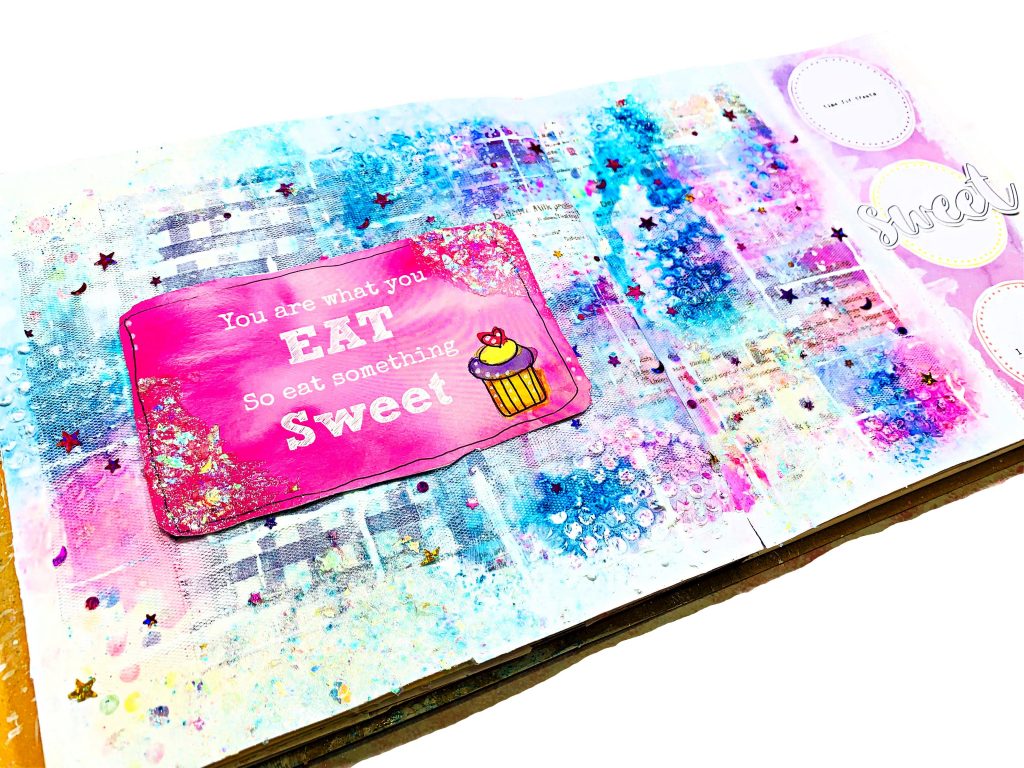 .
.
Take care and much love!
Danielle.