Busy Day Scrapbooking by Rebekah – April Guest Designer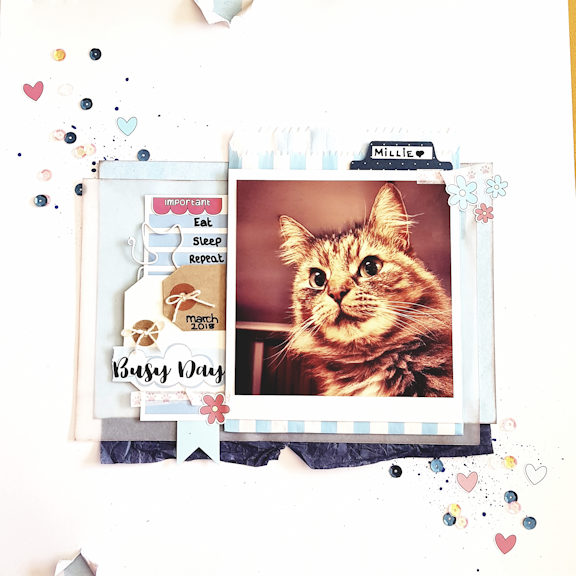 Rebekah, Our April Gust Designer is back on the blog again today, with a second scrapbooking page for us,
using the April Kit here
.
Something that I love about this page is how warm it feels. I think all the other projects I've seen so far, created with this kit are super bright, but I think because the photo has such a warm glow and it's the main focus of this page, it's made the whole page feel warm and fuzzy.
I also love looking close up to see what I can spot….Rebekah has used the papers, the vellum, paper bag and the tissue paper all from the kit to layer and matt under the photo.
I love the torn areas on the page and really like the added sequins ans stickers. So many fun elemnets : )
Here's Rebekah chatting about this sweet page she's created for us:
"This is Millie. I may be biased but I think she is very pretty. She can be a bit of a princess it has to be said and I think that this photo captures that about her. It is one of my favourites.
The sequins called out to be used in this layout- a bit of bling for royalty!  This time I splashed paint in the opposite corners where I planned to put patterned paper and then dropped a pinch of sequins in each area, gluing them in place where they fell. I thought that these areas needed something else and the heart stickers met that brief perfectly. We do love our Millie!  I love the care and attention that Lisa puts in to packaging the kit and the little bags are just fab for adding shapes and interest to the layout. Here I used the blue stripe bag to mat my photo and some more of the crumpled tissue paper to add a different paper texture. Again, I was spoilt for choice with embellishments and kept putting things on and taking them off again. Really all the cats do all day is sleep, eat and repeat so there is some irony in the title cut from the digi sheet but I am really just jealous. I would love a busy day that looked like that"!
Thank you so much to Rebekah for joining us this month.
I really do love her scrapbooking style. I hope it's inspired you too.