I can't believe that it's the end of June already. I have no idea where June went. It was just swallowed right up!
For me, June has been a fun month. Like I've said before, I love all things mappy.
We've updated the home page this week. See here. It needed a burst of colour. What do you think? Any feedback on the site or anything else is always welcomed. Just email me at hello@lollipopboxclub.com  If there is anything that you think would make things easier or anything you'd like to see in future kits. We'd love to hear from you.
If you are still considering trying one of our happy mail boxes or you would like to buy one as a gift. We have just 1 Alice kit left. It does say (4) but for some reason once it hits 3 in stock it won't left you buy. We still can't figure out why??? You can buy this kit here.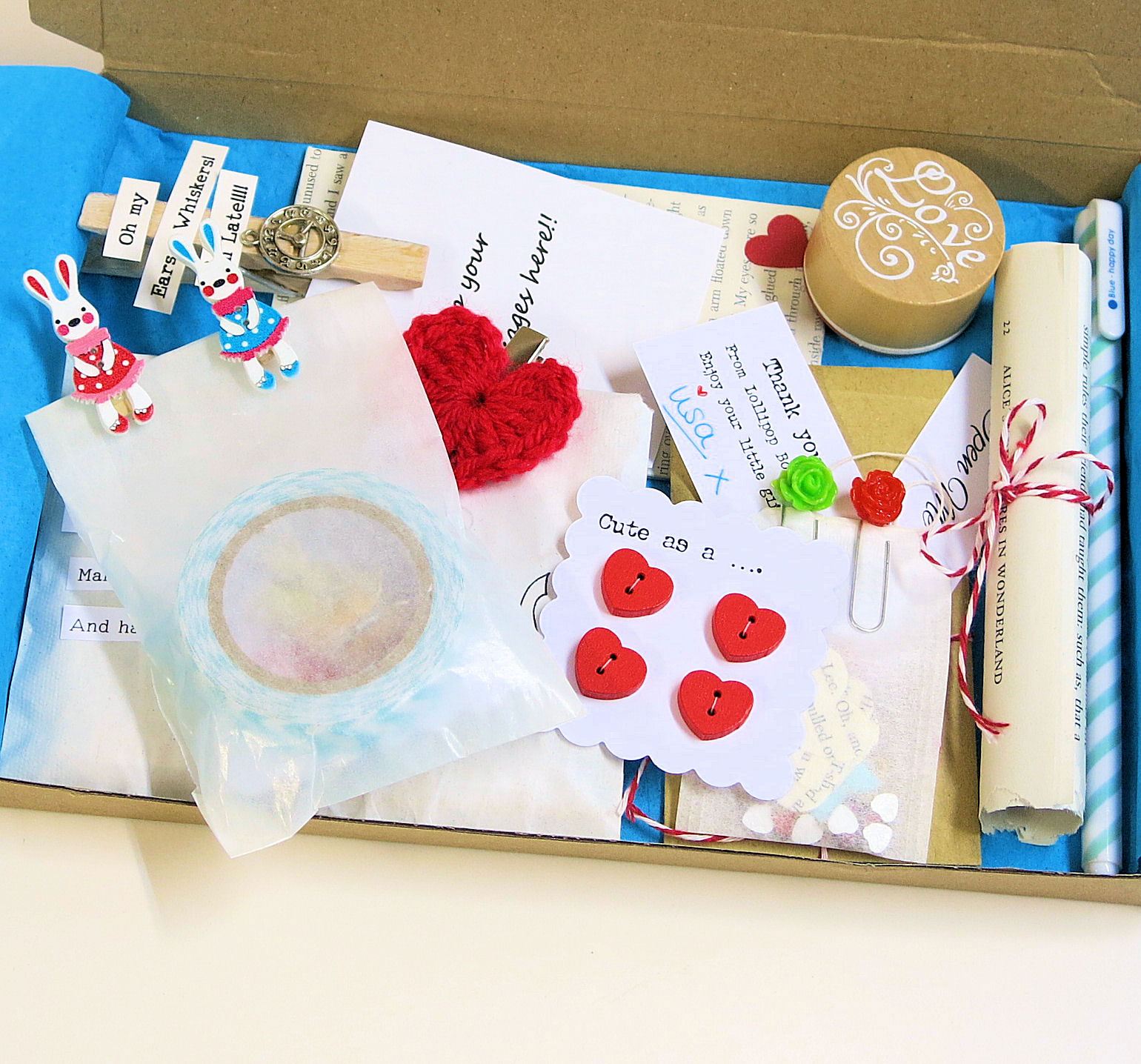 I also still have a hand full of the Bon Voyage kits left. This kit can be bought here.  You can read what others have been saying about the kits here.
A small online shop has been added to the site. Products will increase in time. You can view the online store here.
I've loved seeing your photos over social media this month. Those of when your kits arrived and those of course when you get creative with your kits. It makes me giddy with happiness. Remember #lollipopboxclub . Linda emailed me this week with a link to her blog. She got super creative again this month. Once again, she even used the box. How cool is that!! She turned parts of her kit in to this wonderful travel journal.
Utterly inspiring!! Linda has more details on her blog here if you would like to read more about it. There's also another crazy creative project that she's made using the Alice kit within the same post. I recommend giving Linda's blog a visit.
Other June news. Don't forget the journal competition. We want to see how you use your moleskine notebooks. You can read full details here. The deadline is July 17th. So you have plenty of time still. I have received a few entries but would love to see more.
So, I think that's it for June's kit now. I am really looking forward to spending July with you. July's kit is 'Over the rainbow'. Need I say more?!! It's going to be FUN FUN FUN!!
Here's a peek at what's in store in this month's happy mail box. It goes on sale 1st July – 7.30am UK. You can choose to subscribe or to buy a one off here. Subscriptions are already open if you want to get in early.
Thanks so much for a wonderful June. I hope you've had as much fun as I have.
Lisa xxx