"Hello There" – Journal Page By Emma Kate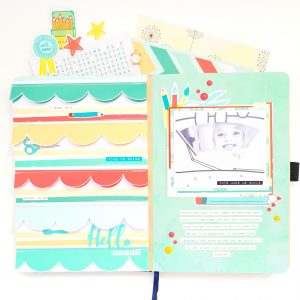 Hey Lollipop friends, I'm back with you today to share a page I created in my journal using the "Time To Shine" kit. I wanted to make a feature out of the scalloped patterned paper so I fussy cut the scallops from one sheet then machined stitched them to the other thus being able to left each scallop like a little mini curtain.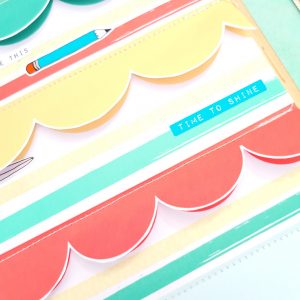 On the opposite page I layered my photo with lots of patterned paper off cuts & tucked ephemera pieces behind that. Next I typed (font: courier new, size: 8), printed & cut into thin strips my journalling & added that just below my photo.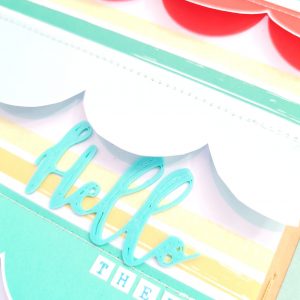 For my title I used the acrylic "Hello" (from Sheenanigans) & the small teal letter stickers for the word "there". Then using the stickers from Mrs Brimbles I added more interest to my scalloped edges.

To finish I embellished the right had page with enamel dots to bring more pops of red & yellow to balance out the two pages. Enhancing what you already have, in this case the scalloped patterned paper, can make all the difference to your layout, take a look at your supplies & see what you can come up with.
Much Love
Em