Relaxing Outdoors – by Monique
Hi Lollipop Friends!
I am still loving creating with the cheerful and bright 'Picnic in the Park' kit and have one last sunny layout to share before I get stuck into a brand new kit! This time, I'm documenting more Lockdown garden dining. We took our evening meal outside and enjoyed the beautiful Spring sunshine as we ate.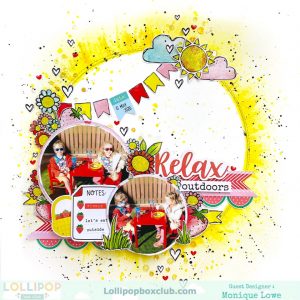 Once again, I knew that I wanted there to be a sunshine element on my layout. I used a circle template as a mask in the centre of my page. Using two shades of yellow Distress Inks (Squeezed Lemonade and Mustard Seed) I swiped outwards from the mask, creating a 'sun streak' circle on my page. To add a bit of extra interest, I splattered and sprayed some yellow 'Chick-a-Dee' Spritz by Shimmerz. A few circles of machine stitching around the centre of my giant sun finished it off nicely.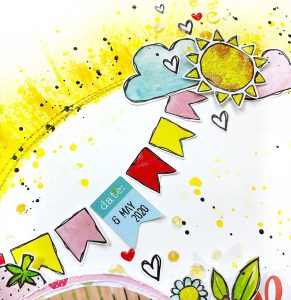 I chose two sweet photos of my twins at their little table outside, and cut them out in circular shapes (3.5 & 3 inches). Framed nicely with patterned paper from the kit, I placed them to the bottom left of my layout and began to embellish! One of my favourite pieces from this kit is the lovely collage sheet. It has been created by Daisy from My Green Cow, exclusively for Lollipop Box Club. I fussy cut all the different elements and clustered the flowers around my photos. I also tucked in a few strawberries and created a fun strip of bunting above the pics. The sweet little sunshine and clouds were perfect as a little cluster at the top of my page, to balance out my layout. I love the little 'notes' journaling card from the kit. It was the perfect touch tucked in between my photos, with a few of the lovely text stickers added on.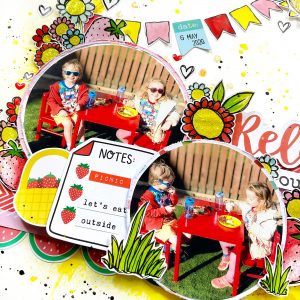 I love the stripy patterned paper and it was perfect for adding a few banners to my page. One tucked under my title and the other peeking out the left side of my photos. The 'relax' die cut was a great feature piece and start to my title and really suited the feel of the memory I documented. I finished off my layout with a few sequins from my stash and some black splatters.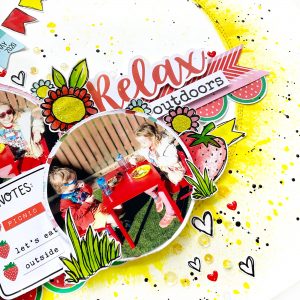 Thanks so much for stopping by today! I hope you've been having fun with this kit and that I've been able to share some new ideas with you. There are still a few 'Picnic in the Park' kits available if you'd still like to get one.
Have a happy week!
Much love,
Monique