Hi there Lollipop friends
The latest kit 'Let's Escape' was perfect for documenting a short break I've just enjoyed in the Sussex countryside. It was very much a case of fulfilling a long held dream of mine to visit Charleston Farmhouse. The one time home and country retreat of Vanessa Bell and Duncan Grant and their friends, members of the Bloomsbury Set. Their artistic talents were evident in every area of the house and gardens and my visit was everything I'd hope for and more! Factor in the pretty town of Lewes, a great B & B, good food and homemade cakes in a delightful tea garden set in a wood and it was truly a great escape! I turned to my TN journal to document the trip.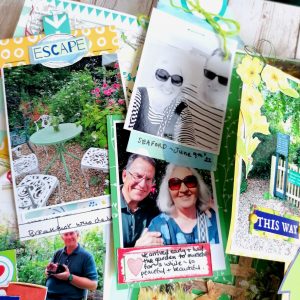 On one side of the double page spread I used the green sprigged paper folding it to create a flap which I covered with the yellow and white spotted paper. I stuck a photo of the entrance to the Beanstalk Tea Garden on the flap and the green arrow and 'This Way' cut from the card included in the kit was perfect! I recently took part in a tag swap organised by another group I belong to and as well as the tag I received I was sent some woodland cards, these were perfect for cutting and using to embellish my page.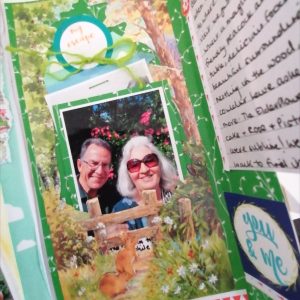 The tea garden was a really magical place that I happened to have read about shortly before visiting the area and I am so glad we made the effort to find it. It was only reachable on foot, via a chalk path and walk through a wood! So secluded and pretty with a friendly peacock strutting his stuff whilst we tucked into delicious food. The Elderflower and lemon cake and the Rose and Pistachio cake were sublime!!
On the opposite page I put down a layer of the Lollipop cloud tissue and a piece of map highlighting the places I visited. I used the white sticky backed envelope on the lower half of the page. The envelope holds a little flip tag with photos and journalling, the front is decorated with a photo of my OH and I used ephemera pieces from the kit to embellish.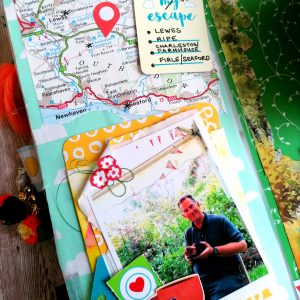 You'll see that I've used pieces of the green twine form (I separated the strands) on the various tags I've made.
I love creating pages like this where I can use multiple photos, include private journalling and use lots of bit and pieces from my Lollipop kit.
I hope I might have given you a few ideas and as always do post photos in the FB group of your creations, it's lovely to see how different people use the kits in their own particular way.
I'll be back early next month with more ideas using 'Let's Escape' until then,
Happy Crafting!
Love Philippa x