Smiles… 12×12 Scrapbooking with Guest Designer Niki Rowland
Hey everyone, my name is Niki (@nikiclairecreates on Instagram) and I'm delighted to be guest designing for Lollipop Box Club.
I live with my three crazy kids and my husband and I part own GoGo Getaway, a scrapbooking retreat business. I gave up my 'proper' job as a divorce solicitor nine years ago when I had my first baby and have never looked back. I have since somehow managed to turn a hobby into a business which enables me to stay at home with my children and also scrapbook every day!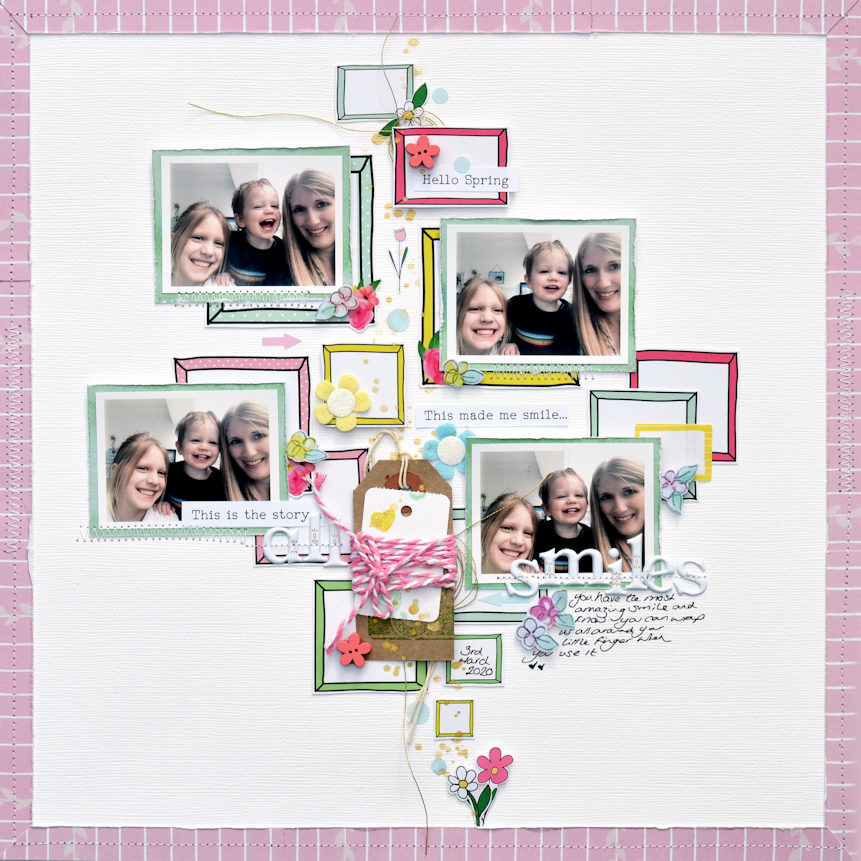 I loved getting the Hello Spring box through my door last week, it's full of cheerful spring colours and flowers and was just the thing I needed to make me smile during the current situation we are all experiencing.
.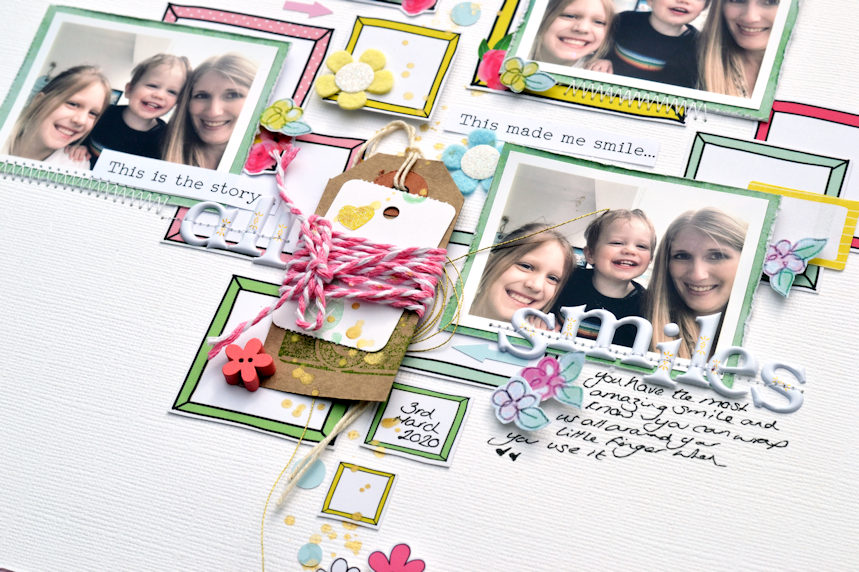 .
I was immediately drawn to the paper with all those frames on it. I fussy cut every frame out of one sheet and arranged them onto a white card background. I felt my background needed a border so I cut several strips of the pink paper and arranged them around the edge of my layout. I snipped the corners to give a 'mitred' effect. I added white machine stitching too.
.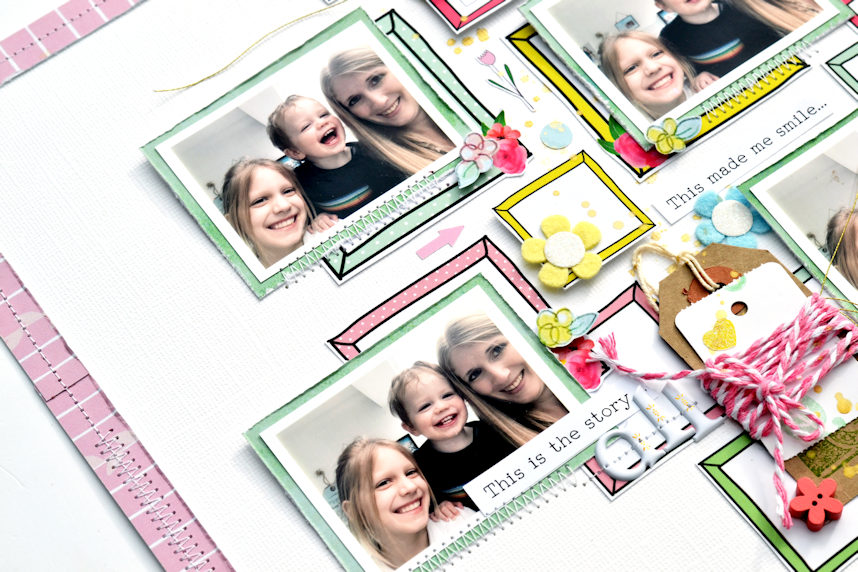 .
I mounted four little photos with one of the green papers and arranged these onto my layout with my frames. I added the little labels too saying 'Hello Spring…', This made me smile…' and 'This is the story…', those phrases are so cute!
I added a title using alphabet stickers from my stash 'all smiles' because the series of photos I've used is about my little boy and his awesome smile.
.
.
I loved how the kraft tag arrived in the Hello Spring box with the twine wrapped around it. I left it as it was but tucked a white ticket in with it too. I fussy cut some flowers to use as embellishments and also used the little flower stickers too. I used the felt flowers and some of the wooden ones which made delightful embellishments for my frames.
.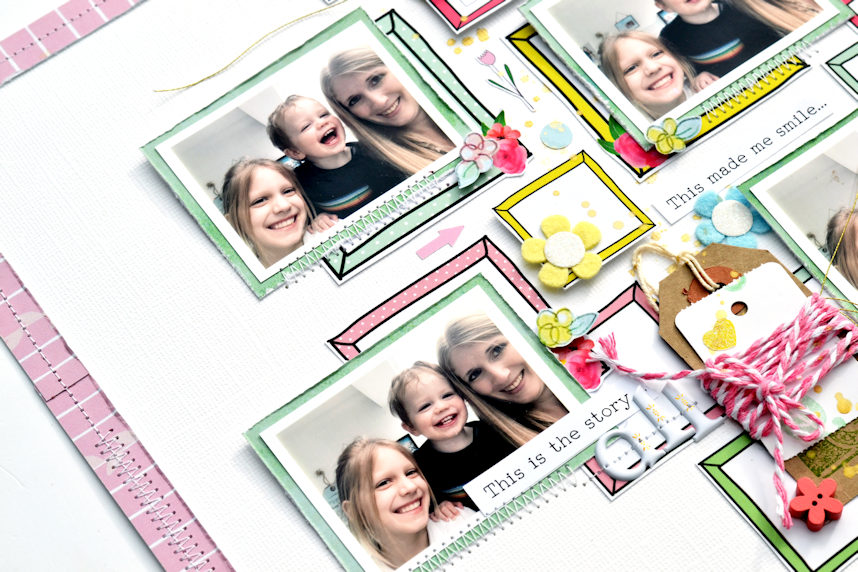 .
I finished off with gold splatters, gold thread twiddles and my journaling. I also added some zig zag machine stitching to my photos.
.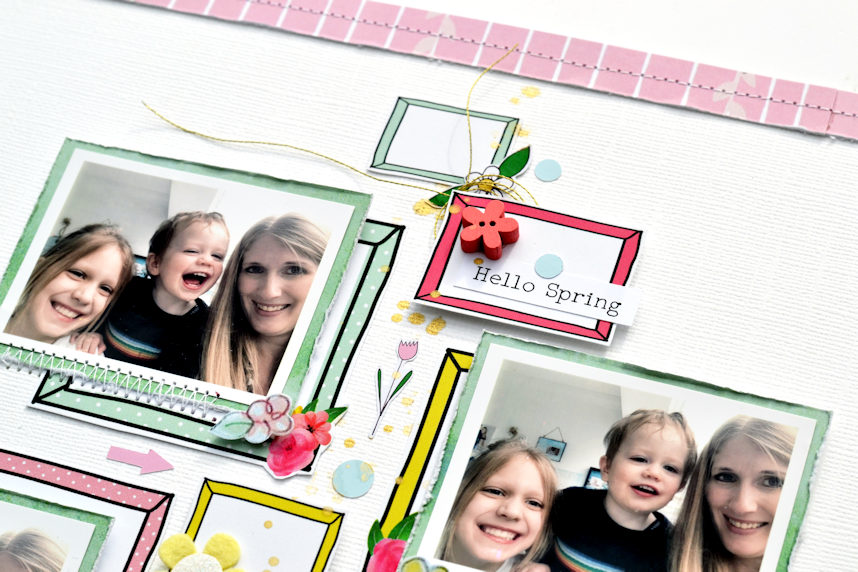 .
I really love how the layout turned out, it is such a happy page with a cheerful and Spring feel to it.
Thanks so much for joining me today, I hope you have enjoyed my layout. I will have another one to share using the Hello Spring box, very soon.
Happy scrapping
Niki xx