Summer Memories 12×12 Scrapbook Page – by Emma Kate

Hey Lollipop friends, today I would like to share with you a 12×12 layout in the classic grid format, this is a favourite of mine & it is a design I go back to time & time again. It is so versatile, can be used with the majority of craft supplies & can be adjusted to suit your needs.

I began by trimming out 3×3 squares from the pattern paper & paper bags within the "Orange Blossom" kit, using a different paper for each square, I also trimmed my photo to the same size. I then arranged them into a 9×9 square making sure there was a good balance of colour.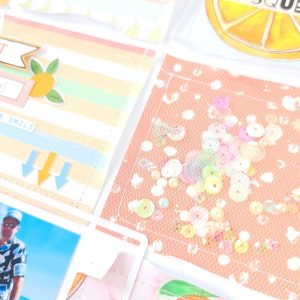 I then machine stitched in white thread around each square, apart from my photo & the shaker pocket square, this was created by adding a layer of tulle on top the patterned paper, stitching around 3 sides, adding the sequins in the opening, then closing the opening with a final line of stitching.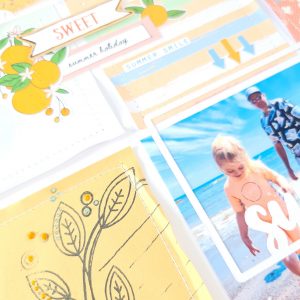 Next I distressed the edges of each square, added stickers & ephemera, used Nuvo Drops to pick out little details & used the summer frame cutfile to add focus to my photo. To finish I typed my journalling onto the vellum & adhered it to the top left hand square.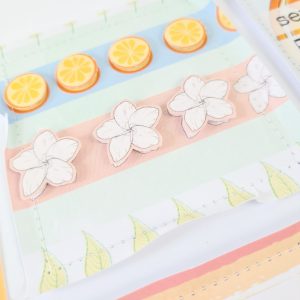 Grids are a great go-to design, why not give it a try, would love to see what you create!
Much Love
Em x