Good morning Lollipop friends – how is everyone doing?
My second project this month is a 12×12 layout using the 'Here comes the Sun' kit.  I really loved the blues in this kit so decided to use them as inspiration for my background.  Using watercolour paints I painted rectangles onto the page in different colours. Once this was dry I added some black lines around each rectangle and then also some doodles on the page.  I also splattered white and black and yellow ink on for extra effect.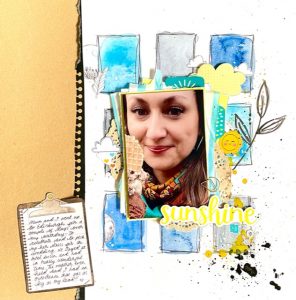 I actually managed to smudge the black in on the bottom left hand corner, so had to cut the page down to 8.5 inches wide. Sometimes when accidents like this happen I think we have a tendency to think – 'Its ruined' but I added some kraft card-stock with black punched detailing to make the page 12×12 again and all was good!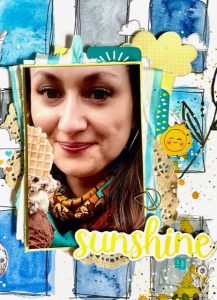 Backing my photo with layers of paper and packaging I stuck this to the layout with foam pads.  I also used the other Kraft doily – which I love!
Finishing off I embellished around the picture using the stickers and die cuts and I found a journalling spot from my stash that worked with the feel of the layout.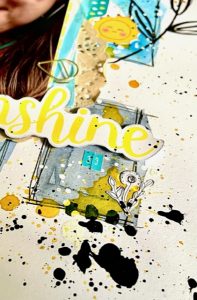 I have really loved playing with this kit. The Mrs Brimbles stickers this month I think were my favourite – I loved the little doodled flowers!
See you all again soon xox