Would You Like To Join Our Team?
.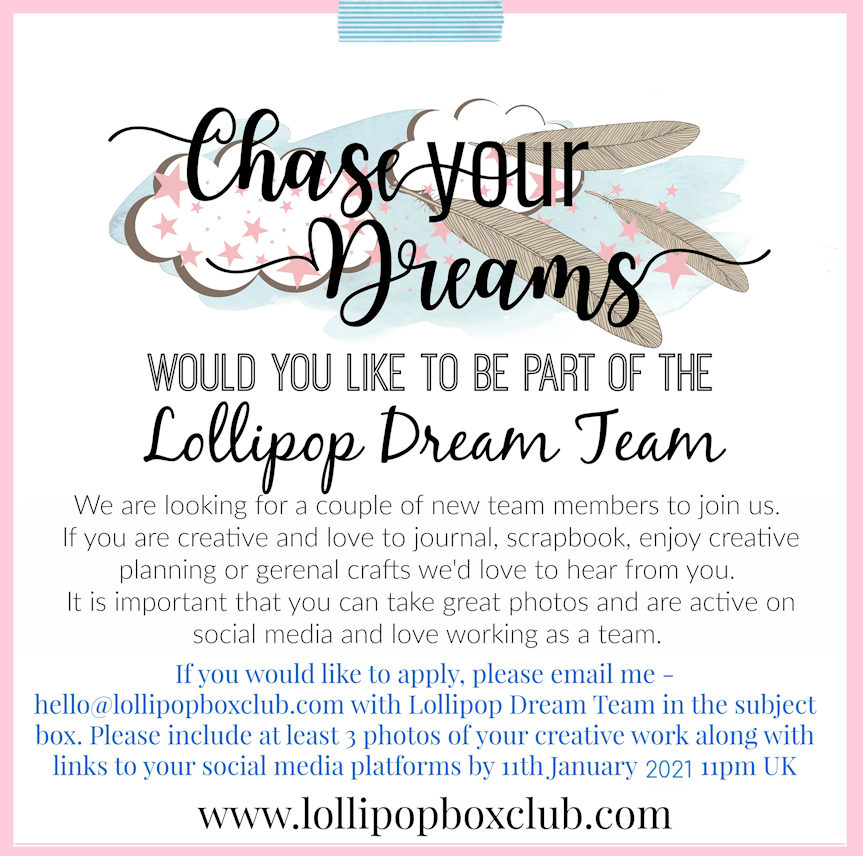 .
Yes!!  We are looking for some new team members.
Are you creative?
Do you love to journal? Scrapbook? Create beautiful planner pages or just love to craft and make stuff?
I'm looking for people to really showcase my boxes and create amazing projects using them to help inspire others. Showing different and fun ways to use the kit contents.
All team members are sent the main box each month and would be required to create projects each month using the kit.
Either 3 blog posts (ideas, tips, how to's, tutorials) or 2 videos each month (this can be flexible and we can arrange this)

To share sneaks on your social media platforms when your kit arrives and during the month of your projects

To share your finished projects on your social media platforms

To join and be active within our Facebook community (you can join here)

To post online within community groups if you are active members and recommend our kits
Team members also receive 20% discount off the online shop (excluding sale items)
.
If you would like to be considered please email me : hello@lollipopboxclub.com with Lollipop Dream Team in the subject box.
.
Please include some information about yourself, what you love to make, other interests and why you'd like to be part of the team.
Your social media presence is very important, so please include all of your links.
And please include at least 3 photos of your projects/pages.  Please also join our Facebook group here.
Please email by 11th January 2021 11pm UK.
This is for UK only please.
.
Thank you so much. I can't wait to hear from you.
Have a lovely Christmas, Lisa xx