2022 Goals – by Amy
Hello, I am here sharing my first creation with January's kit, 'This is Me'. It was perfect to make a layout that documents my goals for the New Year.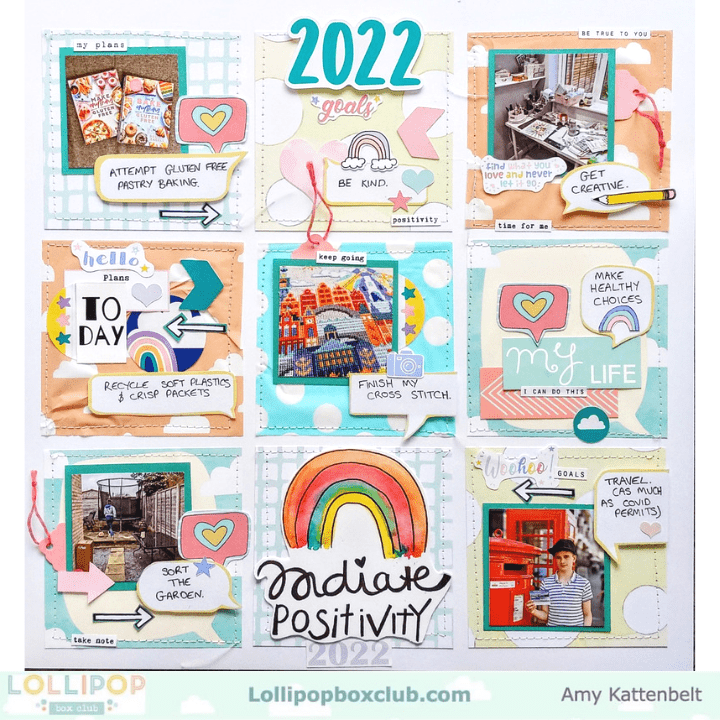 I have used a 3 by 3 grid design. I used some of the papers from the kit, along with some of the packaging, to cut 9 squares measuring 9cm. I took my time to try and get the middle one central onto my 12×12 background card. Once this middle one was in place, the other 8 were easier to line up. I then stitched around each square with white thread on my sewing machine.
Funnily my list of goals, that I had been jotting down on my phone, came to 9 bullet points. Perfect! I chose 5 photos to go with some of my goals, and printed them off in small squares. I matted these with the deep teal paper from the kit (isn't it a gorgeous colour!). I decided that I would put the photos in the corner and central square.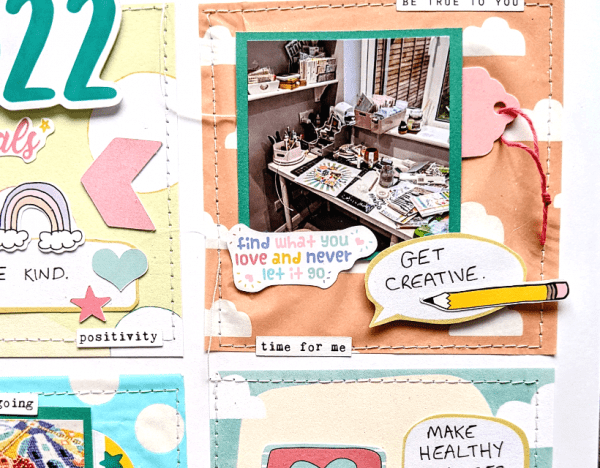 I fussy cut some of the speech marks from the yellow patterned paper, and used them to write out my 9 goals. Apart from the goal that I had to be more positive, for which I fussy cut the beautiful postcard. I don't often use my handwriting on my layouts as its not the neatest, but in this case it was the nicest way to journal my goals.
I added the title to the top middle square, using the teal 2022 die cut and the 'goals' word sticker.
Then came my favourite part of decorating the squares. I used lots of the stickers, die cuts and also fussy cut some more of the patterned papers.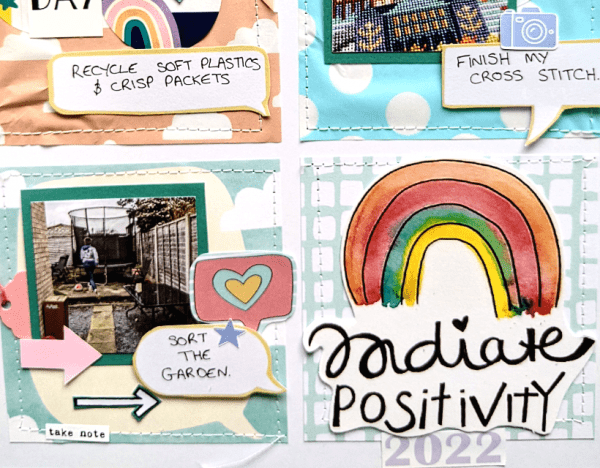 Thank you for coming to take a closer look at my scrapbook layout. I hope it has inspired you to document some of your 2022 goals. I will be back in the New Year to share another layout using the same kit. Until then, Have a very Happy New Year! Take Care and Stay Safe,
Amy x