Hi there Lollipop friends!
Well, another Christmas over and I know that for some of us it wasn't the Christmas we'd hoped or planned for. I hope that wherever you were and whoever you shared it with you were able to make the best of it and create some special some memories with friends and family.
I am forever grateful for the friends I have and for the generosity and thoughtfulness that they show to me when it comes to Christmas gifts. Yes, I know it's easy to pick up a phone and send a message or email to say thank you but I know how much us Lollipop lot love Happy Mail!
I have used some bits and pieces from this months 'This is Me' kit to make some New Year/Thank You cards for special friends.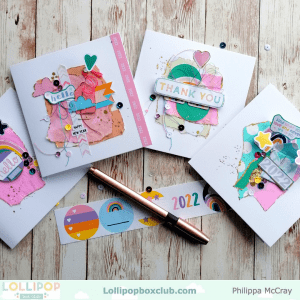 I tend to use the same formula when making my cards.
First I add a layer or layers of paper to my card blank. For these cards I used a mixture of the tissue, paper bag and patterned card.
I add some form of main embellishment. For the card below I used a tiny envelope punched from one of the papers, two of the ephemera pieces and a Mrs Brimbles sticker mounted on to fine wire to come exploding out of the envelope! These can be flattened for posting.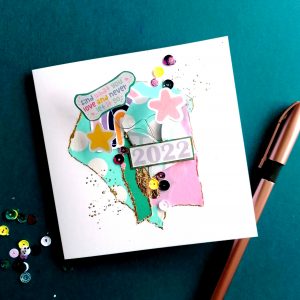 I can't resist adding gold paint! I love that little extra something it adds to the ephemera pieces on this card. I also like to add a gold splatter! The stickers will be used to seal the envelopes.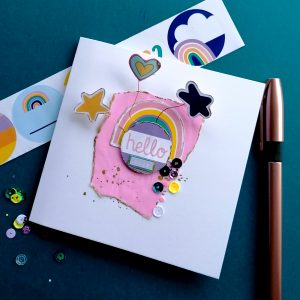 As sequins were included in the kit I've scattered a few of those for extra sparkle and a few twisted strands of threads in co ordinating colours were added to the card below.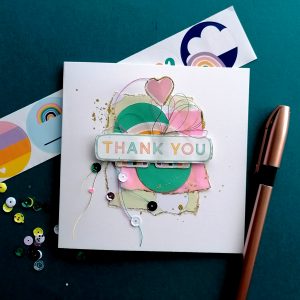 My eyelet punch was on my work table so I used it on this card and affixed one of the tiny tags. The 2022 border was cut from one of the patterned papers.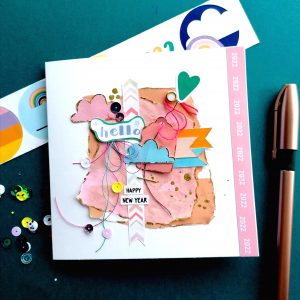 I hope that you like the cards and that maybe I've inspired you to make a few. For those of you with younger children maybe you'll get them making cards too!
All that remains is for me to wish you a very Happy New Year and here's hoping that 2022 will be a better year for everyone.
I'll be back in 2022 with a new project using my 'This is Me' kit.
Take care
Love Philippa x