Adding Circles with Carrie – Mixed Media Scrapbooking
Hi Lollipops 😊 
How are you all? Are you enjoying the July 'Under the Sea' kit? Once again Lisa has created us something beautiful, it was such a joyful kit to work with.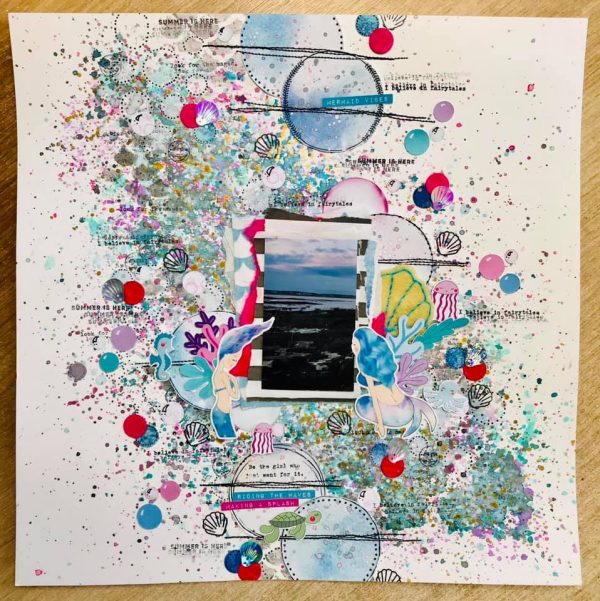 I love everything about this kit – the colours and the artwork are right up my ally – they work so very well for mixed media layouts and I think that one of my favourite things is that Lisa has started to include more of her delicious artwork.  I love the papers – they are so thick and they are just so stroke-able! (I can't be the only person that strokes my papers?)
I started this layout in the same way that I always do – I gesso'd the cardstock and added lots and lots of colour.  One of the papers had some hand-drawn circles on which reminded me of bubbles, so I ran with that idea. I cut these out and used my sewing machine to do some messy stitching to attach them to the layout.  I also used a half inch circle punch to add some more smaller 'bubbles' in the remaining bits of the circle paper and that gorgeous bright pink paper.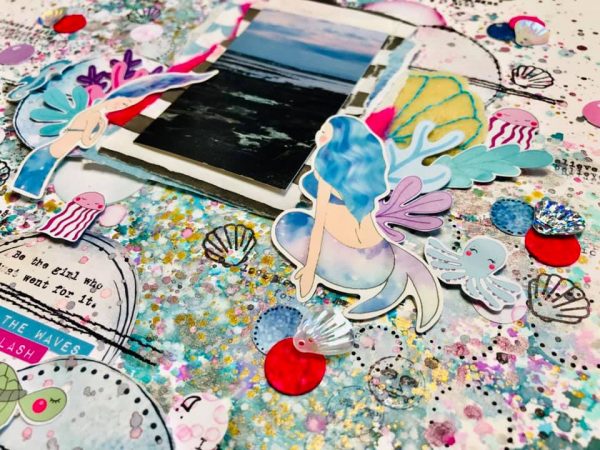 For the focal point I found a picture of the sea in Scotland – I love the sea, especially when its dark and moody – and this picture captured this perfectly. 
I added more papers from the kit, a stripy bag from my stash and some of the fabric behind the picture and attached this to the layout.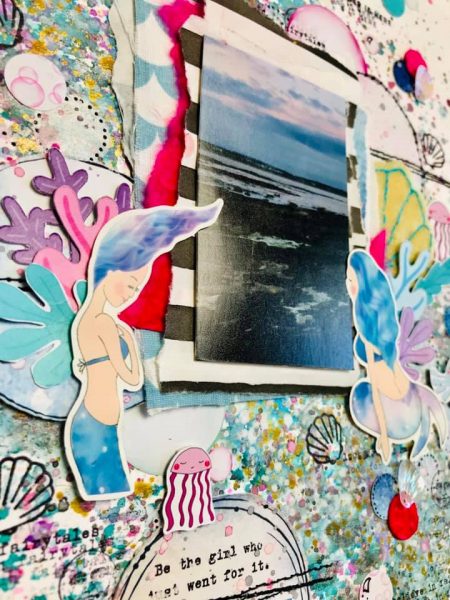 It was then time to decorate and this was so much fun!! The art work from the lovely Anna from Mrs Brimbles was delightful. I used two of the larger mermaids that came in one of the add on purchases to frame my picture. I also added all of the seaweed embellishments from the kit and lots of the stickers from the sticker sheet. The shell feltie made its way onto the page as well. 
I had some stamps in my stash that went well with the layout and added those too – along with the seashell sequins.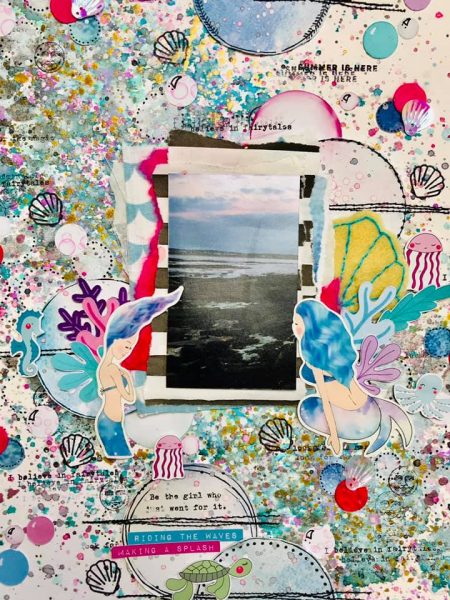 I really hope that you like this layout – it really was so much fun to make 😊 
Big hugs Lollipops and see you soon,
Carrie xo