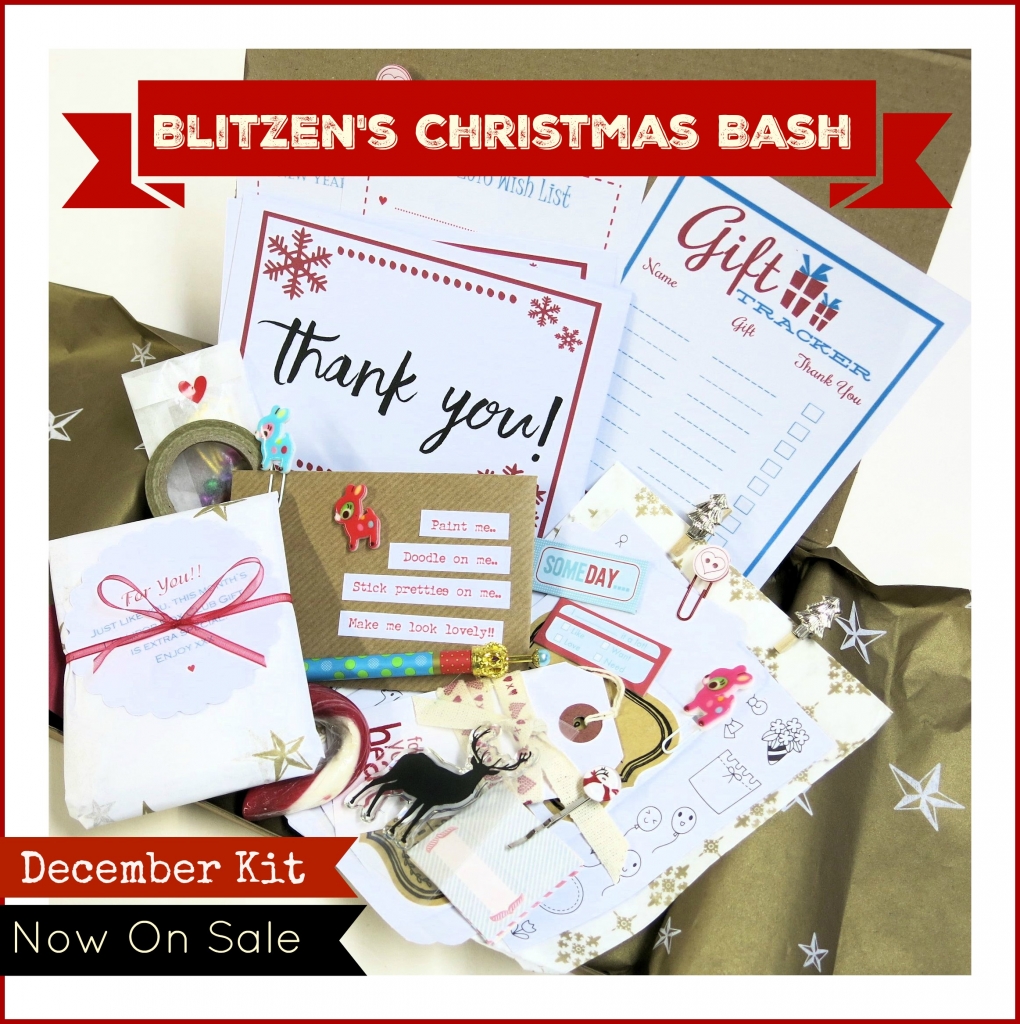 Here is your invitation to our first ever December Kit. It's a party in a box!!
'Blitzen's Christmas Bash' is a really fun and cute kit with those sweet deer giving it a child like feel.
In this month's happy mail box you will be receiving a box full of special treats such as a cute rubber craft stamp, washi tape, stickers, exclusive to Lollipop – thank you post cards, a beautiful crown pen, a fun DIY kit, goodies from SMASH, a treat bag for your projects, bits for your planners & scrapbooking, personalised lists, a gift tracking list so you can record who bought you what (or who bought the kids what…) making sending out the 'thank you's' so much easier, a very special collaboration this month to give you a even more special mystery gift and even more secrets. There's so much for your money again in this month's kit and everything is so beautifully wrapped and presented.
It's like receiving a whole gift box full of mini gifts. Whether the kit is for you or a gift for a friend…it's just the perfect gift to give and receive. 
This month's kit is going on sale early to allow the little elves plenty of time to make up these fun packed kits, plus we want to have our international kits ready to send out early allowing plenty of time for the Christmas post. UK kits will be ready to send by the middle of December.
Kits have been selling out fast. Numbers have been increased this month but there are only a limited amount made. Once they have sold out no more will become available.
You can order a subscription starting at just £15 which includes UK delivery or you can buy a one off kit for £17 incl UK delivery. Both can be ordered here.  We are also offering a special 3 month gift subscription for a limited time . You can view this here. This is a one off payment and comes with a free gift. An ideal Christmas present. 
 As an element of this kit is personalised, if you are buying this kit for someone else, please type the person's name in the 'message box' at the final stage when you are placing your order. As everything is so beautifully packaged, we could even send the happy mail direct to your friend or family member. Simply include their address as the shipping address and leave a note in the 'message box' at the end of the order telling us the message you would like included and we will include a gift card free of charge. We can also add a note on the outside of the box saying 'Do Not Open Before 25th December' if you wish.
This month's kit is a very special one, it is after all a very special month.
Lisa x