Hey Lollipops!
How is everyone doing? I can't believe that we are nearly through June and onto another kit – and what a lovely one it is.  I haven't been very well, managed to get Covid and so haven't really been doing a lot to scrap or journal so wanted to show you all that it is possible to make a page with no pictures.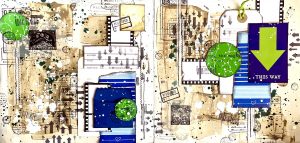 This is a page in my 8×8 art journal and I started off by adding gesso to the background.  I then added in some layers with other vintage coloured paints, lots of splatters and some white ink.  Once this was all dry, I used the stencil from the kit and some stamps from my stash to add detail to the background and make it interesting.  I finished the background up with some stitch wash tape.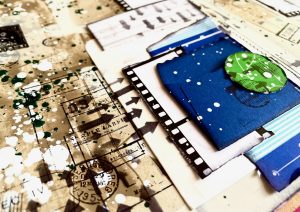 I tore strips of the blue paper and the film paper and distressed and inked the edges and then used these and the envelopes from the kit to create focal points.  To make these feel more cohesive to the background I carried on the stencilling to overlap these too.  I then punched circles of various sizes from the green paper and distressed and inked their edges too.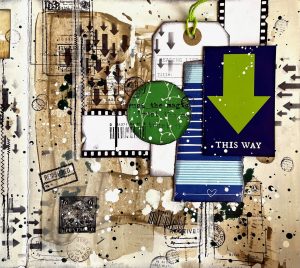 Finally I added some of the embellishments, the transparent posits and bits of the cut apart postcard to the focal points.  I finished it all off with more white splatters. I really hope you like my art journal page and it gives you some inspiration for ways to be creative when you don't have anything to document.  I really enjoyed making this page and am super pleased with how it turned out.
See you soon
xo