Hello Lollipop friends!
The day postie delivered my 'Say Cheese' kit I also received an item of junk mail! It was a sturdy, fold out flyer for an upmarket shop and it seemed a shame to bin it!
If I kept everything I thought 'might come in handy one day' I'd be inundated so I decided to use it there and then to create a mini folio documenting a recent trip to Cornwall with my crafty girl friends!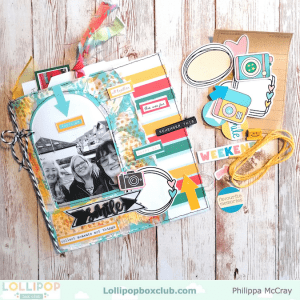 You can see the flyer below. I cut out the window shapes, took off one of the corners to create a pocket and reduced one of the other pages by half. I then used the kit papers to cover all the visible sides (I made sure I machine stitched around the pockets before I glued them in place!).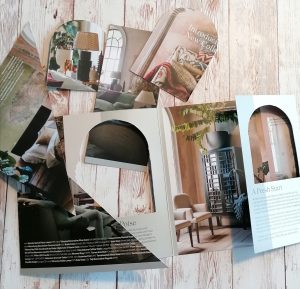 The front cover has a base of paper bag paper and a torn strip of kit paper down the right hand side. I used the cut out window to frame a photo. You can navigate to this website for more ideas. Loving mixed media as I do I added some gesso, watercolour and stencilling before embellishing with the 'smile' Bramble Fox perspective included in the kit along with some of the word stickers mounted on strips cut from a kit paper. I also added arrow stickers, an ephemera piece and the banner cut from a kit paper.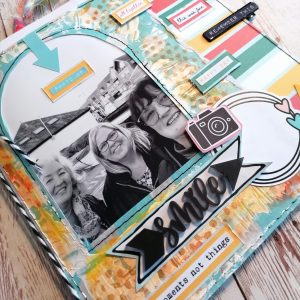 I used the window mount on the inside rhs to pop in a photo of yours truly doing what I love best, cutting and pasting! The pocket is so useful for keeping favourite postcards from a trip to a gallery and a little filmhouse as well as photos and receipts.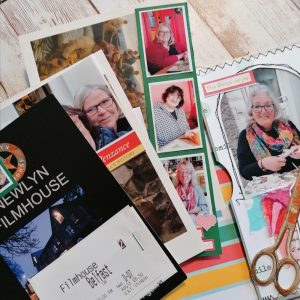 On the lhs I made various journalling cards, a tag and a photo strip.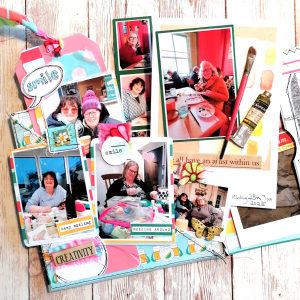 One of the gold glitter tags was perfect for adding a photo of my friend who was celebrating a big birthday! I could have used the yellow twine in the kit for securing the folio but instead I chose to use the black crocodile clip which is the perfect size for one of the sentiment stickers!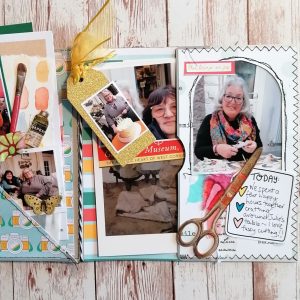 I love how it came together, it's a reminder of my trip and a different way of documenting something special whilst repurposing junk mail at the same time!
I hope I've given you some ideas and look forward to seeing how you use your kit.
To be honest I haven't got much of my kit left but I'll be back early next month with a project using up my last bits and pieces!
Until then
Happy Crafting!
Love Philippa x