Fancy a Pina Colada with Vicki?
.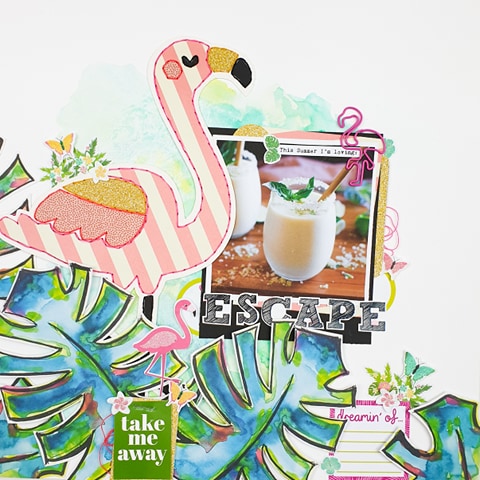 .
Hiya, I've got a fabulous flamingo layout to share today.  Laura kindly shared a sketch in the zine this month so I made my page around that.
I loved the flamingo and leaves on the sketch so used those as my main focus.  I cut out the flamingo shapes from different papers on my Silhouette cutting machine but it would be easy to print the template and just hand cut it.  I glued it to some white card and stitched around the edges.
.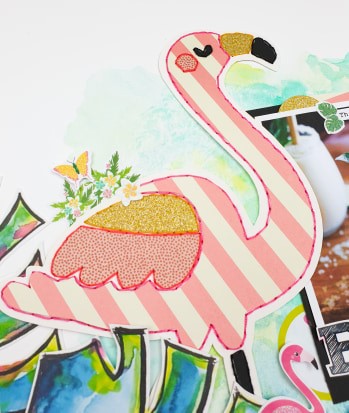 .
I absolutely love the leaf paper that Lisa made so fussy cut around all the bits and added them to the bottom of the page.  I've used foam on the back of some so that they're raised slightly and it gave me the option to pop bits underneath them.
.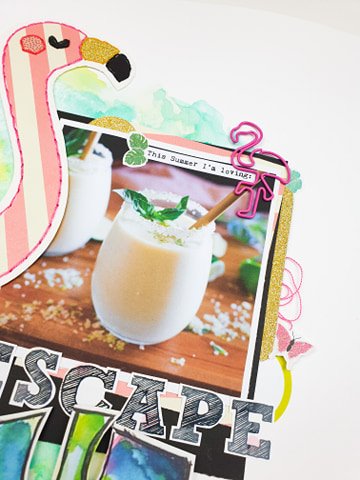 .
The photo is of a Pina Colada!  One of my fave summer cocktails!  I've layered a few papers behind it and slid one of the flamingo paper clips on the top corner.  As if keeping them altogether.
.
I've added one of the small cards behind the leaves and will hide my journaling in there behind the leaves.  The sticker book had lots of lovely glittery ones to choose and I've used a few to make a couple of clusters around the page.
.
I hope my page helps you dream of far of places…Or cocktails!  Both sound equally good just now!
Vicki