What's a Tunnel Card? with Vicki
Hi Guys! This is a quick tunnel card I made during the week using the 'Take me away' kit here.
.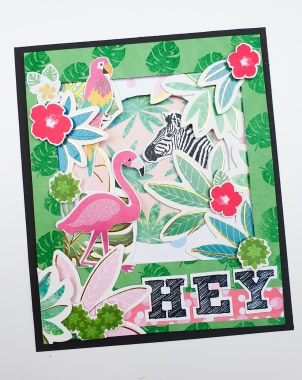 .
I chose a few different papers. I picked 3 contrasting ones.  The top green layer is from the kit that I stamped leaves on.  I've used green on green so they were a bit more subtle.  I cut a square out just off centre to make a window.  The next layer in was the spotty kit paper and I drew a circle in the middle and cut a window in that.  It could have been neater with a die cutting machine but it was quick enough just to do by hand.
The final layer was a tropical leaf print that I've had for a while and thought it went well with the kit along with the extra leaf die cuts I had already.
I used a double layer of foam to attach the layers to each other.  Doubling it up meant I could add the leaf and animal die cuts around the edges with sticky tape and one layer or foam.  Just adding lots of different layers and heights.
.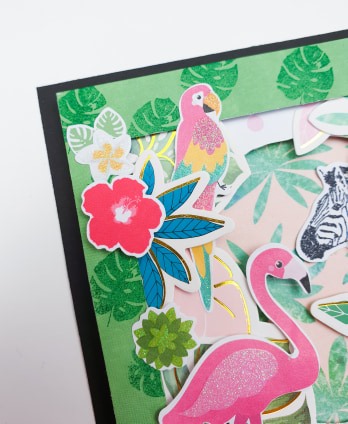 .
Once I was happy with where all the bits were, I stuck them down and chose some of the stickers to add to my top layer.  This also helped disguise some of my wonky cutting around the windows.
.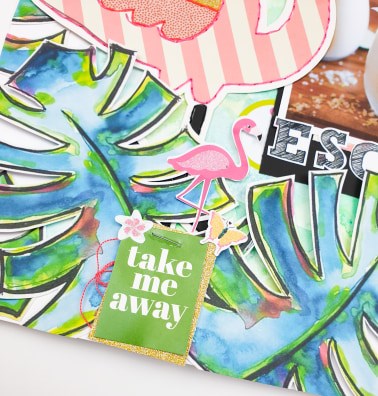 .
Lastly I've used a strip of washi along the bottom of the car and fussy cut around the 'Hey' from the quote paper.  I love this paper for making titles/sentiments so easy!  I've attached it to a black card blank this time.  I just thought it looked better than the white this time.
I hope you're all enjoying your kits this month too!
Vicki