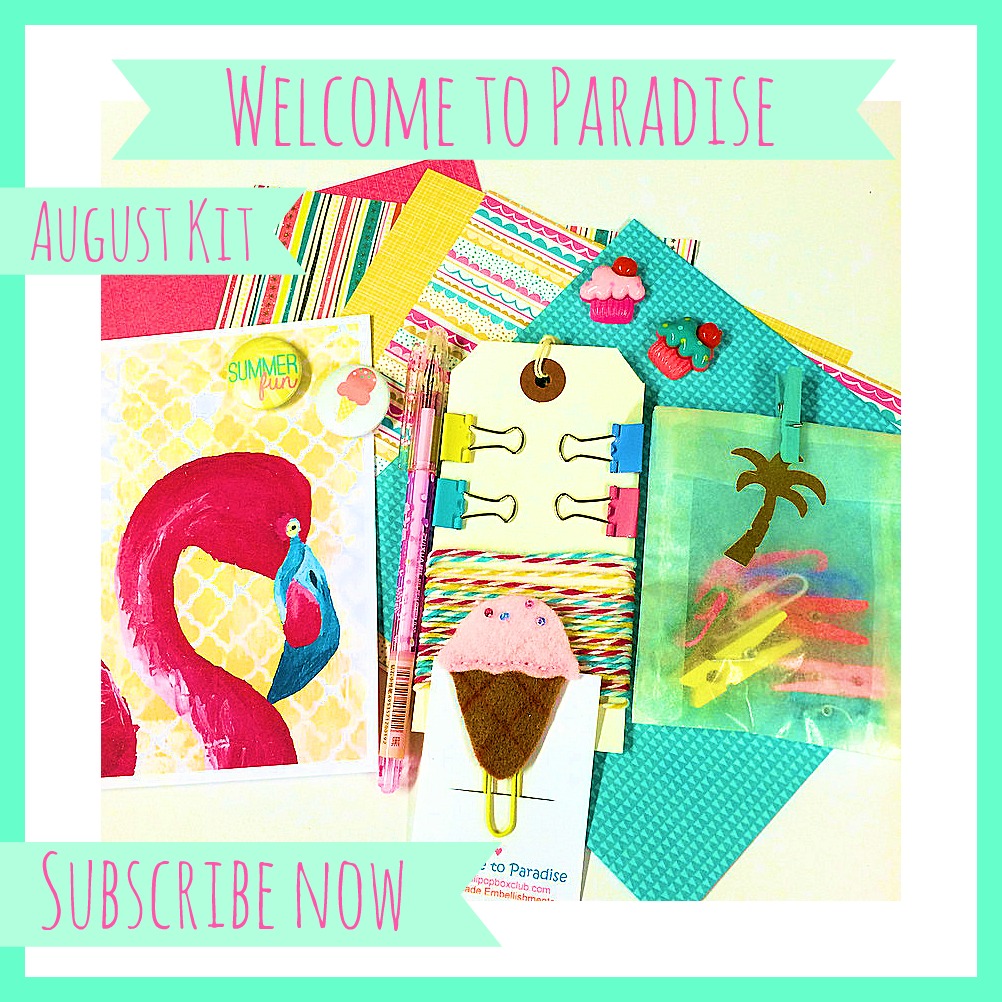 'Welcome to Paradise' is our August kit. Here's a little preview for you.
You can sign up to this kit already by subscribing here.  This means you are guaranteed a kit, you also receive it at a discounted price and you get little extras in your happy mail box.
We have ice creams, palm trees, cocktails and flamingos. The perfect Summer kit. All in such bright and happy colours. This month's happy mail is guaranteed to put a huge smile on your face.
This month you will receive…… original artwork, washi tape, a fun felt ice cream paper clip, funky twine, a pretty pen, stickers, funky papers, a DIY kit, a mystery gift and lots more to be revealed on the 1st August. This is just a little taster for now. We are also collaborating with Hey Little Magpie this month who are making some exclusive flair badges for this kit.
We also have 2 yummy exclusive printables this month.  As a subscriber you will receive a secret code to download these for free when your kit arrives. Subscribers also receive an extra treat in their kits.
The one-off kits go on sale on 1st August 7.30am UK and more photos and details of the kit will be revealed then. All kits get shipped together after the middle of the month.There will be updates here, on Facebook and Instagram. The blog will run along side this kit during this month of August giving you lots of ideas, tutorials and inspiration.
The boxes are post box friendly which means if you aren't in it can just be posted through and will be waiting for you when you get home……and it's free UK delivery (flat rate everywhere else).
There's something for everyone….scrapbookers lover them, planners love them, general crafters love them and our subscribers vary from 5yrs old through to 70's. There are a limited amount are made each month.
I am so excited about this month of paradise. I hope you are too.