Hi there Lollipop friends!
My first project for 2022 using the current This is Me kit is a 12 x 12 scrapbook layout. I haven't done a layout for a while as I find I have moved away from scrapbooking as my main means of memory keeping but every once in a while I do enjoy creating a layout!
As the kit is all about positivity and, for me personally, that means looking forward to a brighter better year I thought I'd use one of the last pics of myself taken in 2021!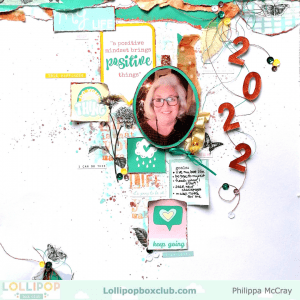 I started by creating a border along the top edge of the page using torn papers from the kit along with some pieces of painted paper and snippets of a decorative copper toned gift wrap. I'm very into copper at the moment and it's making a lot of appearances in my December journal which is not yet finished!
I have added a couple of new Distress Oxides to my collection, Salvaged Patina and Rusty Hinge. I put down a base of Salvaged Patina , added some copper splatters and as I thought it was the perfect opportunity to use my 'Life is what
you make it stamp' I used  Rusty Hinge to stamp it!
I painted the numbers from the Peartree Cutfiles file (in this months collaboration) in copper and added them in a cascade coming from a twist of threads secured with some of the sequins in the kit.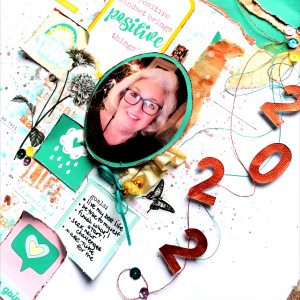 I used the cut apart sheet and the quote " a positive mindset brings positive things'"cut from the zine to add to my background. The cut aparts are edged in copper. The Mrs Brimbles stickers were perfect to add to the background!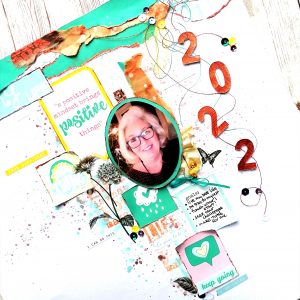 My photo is mounted on the turquoise card from the kit and I've tucked in some of the copper painted paper, a snippet of cream silk and at the last minute I decided to add a bulb pin with some tiny bells, a button and a ribbon bow.
The floral sticker and butterfly washi were gifted to me by my Advent swap partner!
The last thing I added was the little embellishment bottom left with another cluster, sequins and threads.
I thought about what I wanted for myself this year and living the best life possible is what it's all going to be about, bring on 2022!
As always do post your own creations in the Facebook Chat Group, I love seeing how members use the kits, it's all about sharing ideas and inspiring others.
I'll be back on the blog later this month using the new kit but in the meantime I have made some little extras with the This is Me kit which I'll post over the next few days.
Have fun and Happy Crafting
Love Philippa x