Making layouts easy with DIY embellishment clusters by Carrie
Hello lovely lollipops!
I am thrilled to be back on the design team and have been busy creating with the March "Some Bunny Loves You" kit.  This kit is full of really fun bits and bobs and I really enjoyed using all the different elements to create my 12×12 layout.  I don't know about you, but sometimes after taking a scrapbooking break, its tricky to get back into the swing of things…. well that is where DIY embellishment clusters come in!  If you haven't made these before – they are a really easy way to create a layout.
I started off by punching and die cutting lots of shapes from the gorgeous papers in the kit, along with some scraps from my stash. You want a real mix of shapes, I used circles of various sizes, tags, stars, hearts, clouds and leaves.  I inked the edges of all the bits and then layered them together in different shapes, making each cluster a different shape and size.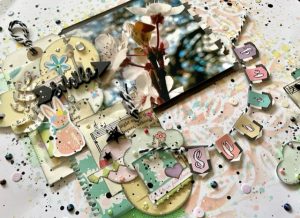 While creating your clusters, I find that it works best if you have a couple of elements in every one – this gives a little cohesiveness to the clusters, without making them all look the same.
Once I was happy with the shapes of my clusters, I added some of the net and fabric from the kits, some stickers and word strips and then some sequins, gems and perspectives from my stash.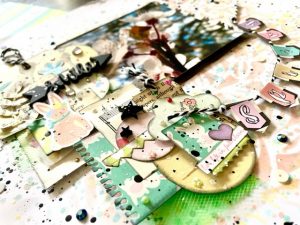 To create my background I used stencils and Distress Oxides in pink, yellow and blue, adding some black and white splatters for contrast.  I printed my photo and backed it with a striped bag that came with a previous kit.  The layout came together really easily after this.  I spent a bit of time positioning the clusters on the background and when I was happy with where they all were I used foam dots to stick them down, added my picture and that was it nearly complete! I finished off by using the "Spring" sticker banner from the kit to make my title and adding a few more sparkly gems and sequins from my stash.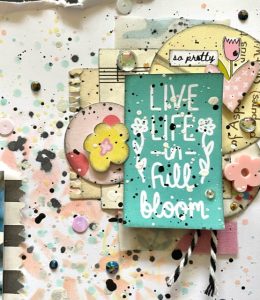 DIY embellishment clusters really do make a layout come together easily – if you haven't tried them yet do give it a go and then pop onto the FaceBook group to show us your creations!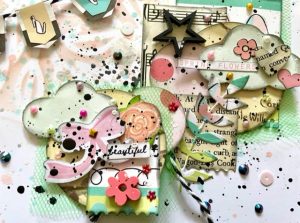 Speak soon
Carrie xo