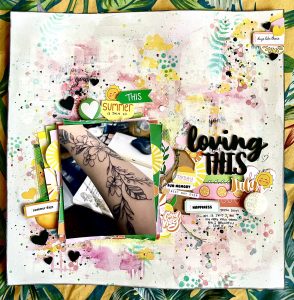 Hello lovely Lollipops!
How is everyone doing? Its been a really hot week – Monday and Tuesday were something else – I don't think I have ever been so warm!  The Citrus Twist kit is just perfect for summer with bright colours and lots of super cute embellishments!
I used the kit to create this 12×12 mixed media layout about my very first tattoo! Do any of you have tattoo's?  I love mine and am already thinking about what I can get next!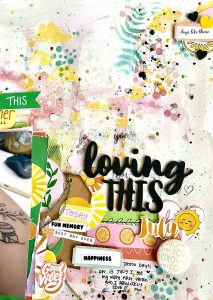 To create this layout I covered a piece of 12×12 card-stock with gesso and then used some water colour crayons to create a background.  I have never used water colour crayons before – but they are so much fun! I used the Caran D'Ache ones and they are just so smooth and delicious to put down onto the card-stock and they blend together beautifully.  One this was dry I used stencils and stamped images to create some detailing to the background.  I had a lot of fun creating this background, but by the time I was finished it was really bright, so I just used some white acrylic paint to take back the colour a bit.  I think that people are sometime a bit intimidated with mixed media, but you really can just play.  There is always a way to change something if you aren't 100% sure about it.
I used the gorgeous papers, fabric and tulle to back my photo, distressing all the edges with my scissors and sticking some little pop dots between the layers to add some depth.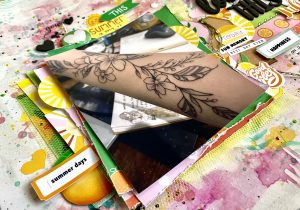 Once this was all stuck down (I had to use Glossy Accents because of the fabric and tulle, but it stuck really well) I created a cluster to the right of the phone using the embellishments and stickers from the kit.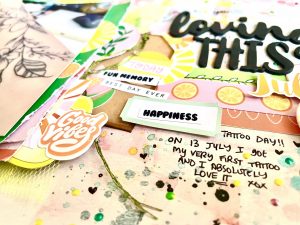 I finished off the layout with some bold black thicker words and hearts from my stash – I really love the bold black against all the colour of the background, papers and embellishments.
This is such a great kit – its perfect for summer and the warmer months, the colours are so bright and fresh.   I will be back soon with another creation using 'Citrus Twist' – I have made a great journalling page!
See you all soon and take care!
Carrie xo