Hi Guys,
I hope you've managed to survive the heat this week!  I spent most of it indoors catching up on some journaling!
We started our summer holidays in Scotland at the end of June so I already have lots of summer trips and days out to document.  Normally I'd make a mini book for the whole summer beforehand and just add my photos and journaling to the pages when I get time but this year I've decided to keep it in my normal journal so that I don't end up with the whole of summer missing.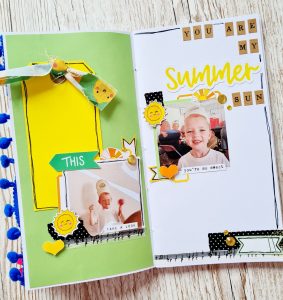 I had these photos from the end of term P1 assembly printed out already and chose a few bits from the kit so the page was a really simple quick and easy one! The phots were pretty plain with a lot of white – I wanted to keep some of the whiteness but also add in a bit of colour.  I've used the left page to do that with the green paper.  I've added the yellow tag so that I can use that to journal on.  I know that I have a bit more I want to write about so I've left the right page white but filled the top two thirds with my other photo and a bit of a title using the yellow 'summer' die cut to match the yellow tag on the opposite page.  I brought in a little bit black washi tape and used a pen to draw a few borders.  I'll use the same pen to write my journaling and that should fill the pages up more.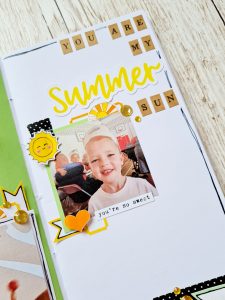 I'd love to know how you're planning to document the summer – Do you like to scrapbook, keep it in your normal journal, make something new for it?  There are so many options I love everyone else's take on it!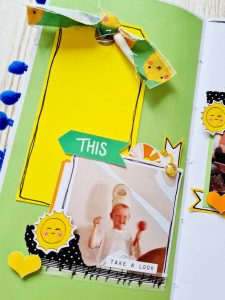 Thanks
Vicki X