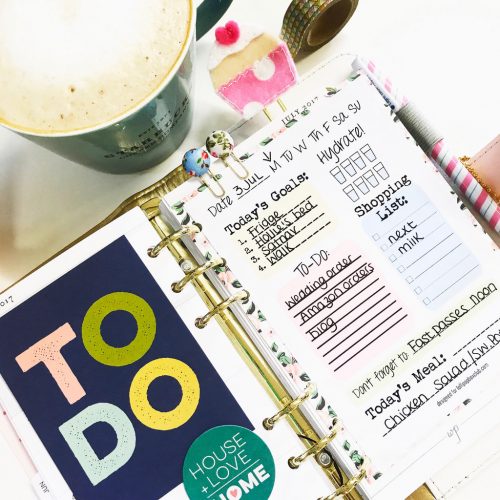 Let's kick start this month of 'Domestic Goddess' goodness off with a 'Motivational Monday' post.
Not only are we starting a new week, but we have a new month ahead of us.
I find the best way to start a week is to get ahead of the game. I like to have my planner ready for the week ahead on the Sunday, my weekly menu planned which means a shopping list gets written at the same time. I can ask the family on the Sunday what plans they have for the week and then on Monday morning I feel ready for the new week.
Monday Morning first thing I like to clean the kitchen after breakfast, whizz the vacuum, mop and duster around, wipe the bathrooms over and then sit down with a coffee to write my days to-do list. (I always feel so much better knowing the house is clean and tidy) I'm including this handy daily list in this month's kit. You will receive a copy of the list and as a subscriber you will receive a code to download for free. For everyone else it will be £1 to download.
I also like to set myself achievable goals. Goals that I can do in realistic time and chores that I can also delegate. Today I want to clean out my fridge at some point and I'm giving my daughter as she's finished school for the Summer now, the job of stripping and washing her bed linen.
This to me feels like a great start to the week. I feel organised and mentally that makes me feel good.
What do you do on a Monday to motivate yourself and make you feel good?
Have a great week!