Hey Guys
I'm sharing another page in my journal today.  These pages will be added to my book ring journal where I keep all the little everyday stories that I want to remember.  I cut the peach paper down to my page size and then cut an extra white page slightly smaller to add to the right page.  I love the sweet house stamps in this kit.  If you didn't get a kit I'd still recommend picking these up. They're fab and still available here!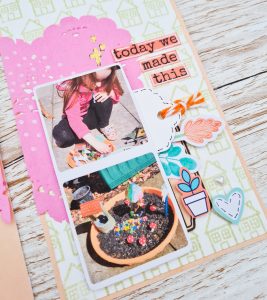 I've used the Old Paper Distress Ink to stamp lots of the smaller house on the white card.  They're not perfectly straight but I don't mind at all.  I just eyeballed it so could have been worse.  I had originally printed the photos as a strip of four but then changed my mind.  The two on each page works better.  The photos are ones I took in the summer.  I helped Ivy make a little fairy garden.  Lots of love and fairy magic went into but as soon as the dog got into the garden he grabbed it and tipped it all out.  A DIY Disaster!  At first I thought the pink heart doillies were going to be too pink for me but I really love how it look on the page.  It matches Ivy's jumper too!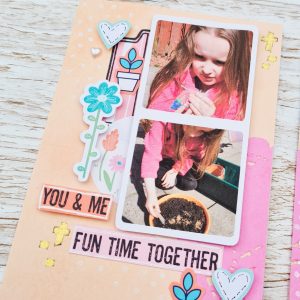 It's such a simple page but I love journaling in this way.  It means I don't need a lot of time and the story has still been documented somewhere.  It's better to have something than nothing and when I look back I'll just be happy I did it.  I left a space on the bottomof the left page for journalling but I love the word strip paper.  They add a little bit extra while matching the kit.
I hope that your kits make it easy to make quick pages to keep all those lovely memories!
Vicki x