Hi there Lollipop friends!
Aren't the colours of the 'our sweet home' kit just gorgeous? When my youngest daughter Abi sent me some photos of her and Rach at a family wedding (out in Australia) and I saw the colour of the dress she was wearing I just knew I had to create a scrapbook layout with the kit!

I know I'm a bit late to the party but I'd never made a snippet roll so decided there was no time like the present!….I cut some strips (around an inch wide) of the script glassine sweet paper as a foundation, then using a glue stick  just randomly stuck down all the small odd bits of paper left over from another kit project on top of the strip. There are bits of paper bag, little scraps of pink doily, and torn pieces of kit papers. The only bits I added were from another piece of paper lying around that had the perfect matching colours! Once everything was adhered I just ran it through my sewing machine with a zigzag stitch using turquoise thread. I guess the snippet roll was my starting point!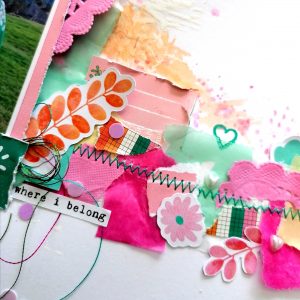 I layered up my photo and created a border down the left hand side of the page . When I was happy with the placement of my photo cluster I put down some gesso, watercolour and some random stencilling using a pink texture paste, most of which ended up being covered!
I played around with the snippet roll and liked the strip running horizontally from the photo to the edge of the page but I also decided to include a piece tucked into my vertical border. Once everything was stuck down I embellished using the pearl accents, some ephemera pieces, stickers, bits from the cut apart sheet and the 'here with you' strip cut from one of the kit papers. Of course I had to add some threads and the frothy pink trim peaking out of the vertical border!

I used the little heart stamp to add a few turquoise hearts and popped a gold paperclip on the photo  but still felt it needed something else…. I stitched around some of the hearts on the border paper using coordinating embroidery threads and finally added a scattering of sequins. I will add some private journalling and when I finally buy a new rolling date stamp with 2021 on I'll add the date!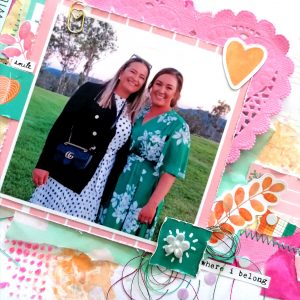 I'm pleased with how it turned out and hope I might have given you a few ideas to try out.
I'll be back on the blog at the end of the moth with a project using the new kit.
Until then…. Happy Scrapping
Love Philippa x