Hi there Lollipop friends!
I hold my hand up, I'm a messy crafter and after I've had a massive clear up it doesn't take me long to completely cover my work table again, I bet I'm not the only one! I sat down to make something for this blog post and as I'd got my acrylic paints out and some papers that I'd painted for something else I decided to incorporate the painted papers with elements from the kit to create a little pocket journal. I love how versatile the Lollipop kits are!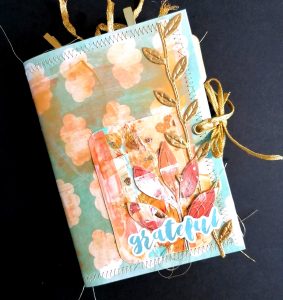 The first thing I made was the cover. I wanted to make sure it was sturdy so I stuck the cloud paper on to white cardstock, added some gold acrylic paint and machined around the edges using gold thread and a zig zag stitch. The folded piece of card determined the size of the journal.
Using my pre painted papers I cut three pieces to size and backed each one with the gorgeous Lollipop branded tissue paper, don't you just love it? The journal only has one signature so I machine stitched it to the cover using the same gold thread.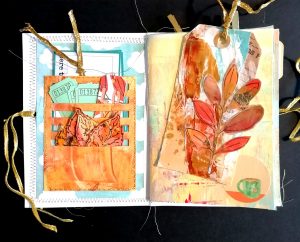 From a piece of the yellow kit paper I cut two tags and the ephemera wallet (used on the inside front cover). I painted the ephemera wallet with gold acrylic. The tags are decorated with torn pieces of paper bag from the kit, gesso, acrylic paint and stems of leaves cut from the leaf paper with added gold foil.
One of the tags is adhered to the front cover along with the word 'grateful' (this could be a little gratitude journal). I felt the need to add a length of gold leaf trim from my stash and some gold threads. To secure it I added a gold eyelet front and back so I could pop in some gold ribbon to keep it closed.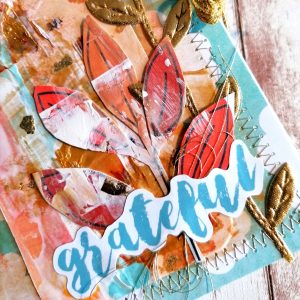 Having decided to give this pocket journal away as a RAK I added minimal embellishments to the pages as I would like the recipient to make it their own by adding photos, journalling, ephemera or whatever takes their fancy! (I have not included photos of all the pages here)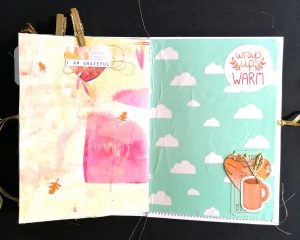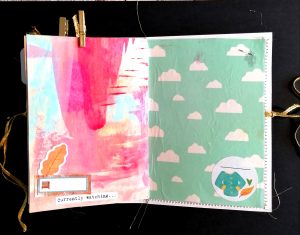 I have used a few of Mrs Brimbles' stickers, some of the kit ephemera and stickers and my own painted leaves.
If you'd like to win it please comment on my post over on the Lollipop Facebook Chat Group and I'll draw a winner at random on Monday 15th November at 8.00pm
I'll be back later this month with a project using the new kit.
Until then, happy crafting
Love Philippa x