Quick Gift Bag Decor by Terri
Hi Lollipop friends, today I am up on the blog with a bit of a differnet project for me. When the newest Lollipop Box Love Yourself  kit arrived through my door I was about to create some little table gifts for my crafty friends and I was so excited to use the beautiful papers from the kit.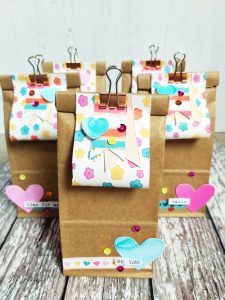 As some of the group are trying to be a little more healthy and more mindful eating habits I had decided to create my own Trail mix with various nuts, seeds and dried fruit. But also with some added salted pretzels and chocolate covered honeycomb for that salty/sweet contrast.
I had some old kraft food gift bags in my drawer that had been there for years that I had decided to use up and the colours in the kit are a gorgeous contrast to the brown tones in the kraft.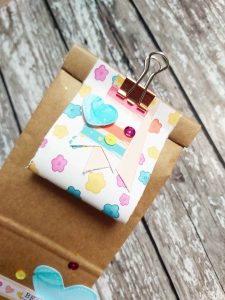 The first think I did was cut a strip of floral paper and folded it round the small bag of sequins that I also gifted my friends. To decorate this I cut two small fishtail banners from the striped and word/heart paper. This was then all held in place on the top of the bag with a rose gold bulldog clip from my stash.
However, it looked a little bland and needed abit of sparkle. This is where the beautiful heart die cuts from this month's collaboration with Nadine from Craftine came in handy. The bold blue and pink coloured small hearts were ideal decoration for the banners aong with some of the sequin mix in the kit.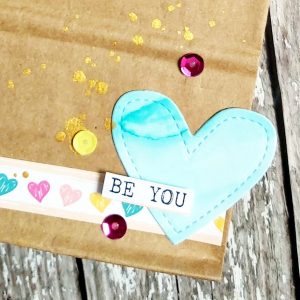 Turning my attention to the bottom of the bag I added a strip of hearts cut from the patterned paper, a large die cut heart from Craftine and a phrase also cut from the papers. Finishing off with a splatter of gold acrylic ink and some of the sequin mix from the kit.
These gift bags came together super quick, once I had the design I was able to duplicate it across all 5 bags I was gifting but mixing up the heart colours and word phrases on the bags. They were very well received at the weekend.
Thank you for joining me on the blog today, we love to see what you create with the kits so please share with us in the Lollipop Box Club Chat group on Facebook.
Happy Crafting!
Terri x