Scrap-therapy Layout – by Emma, Project Sparkle
Hello, I'm back and it's time for some more scrap therapy. I saw this gorgeous cut file and instantly wanted to put it into my book of pretty things. Turns out backing cut files is anything but relaxing for me, but the results are just divine, so I guess overall it's worth it! You can find the video to go along with this post here.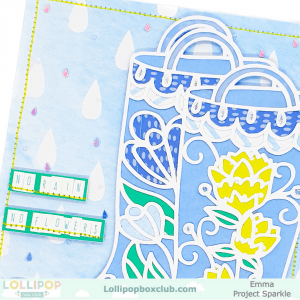 To start, I cut the SVG on white card-stock using my silhouette cameo. Next I went through all of the kit papers and chose which one I wanted for each part of the design, before using them to back the file. I needed something a slightly different colour for the main part of the boots, and spotted the kit packaging on my desk, the blue treat bag worked perfectly.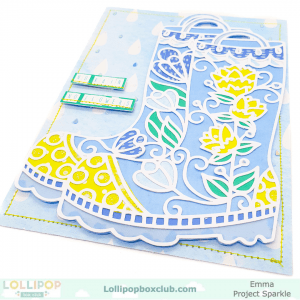 'No rain, no flowers.' Seemed the perfect quote to go along with these floral rain boots, so I used the mini alphas from the kit to spell this out. I stuck the alphas onto the green kit paper, which I then backed with white card, for added stability, before stitching across them to add some texture.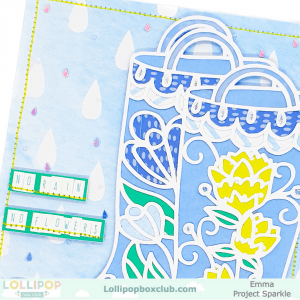 No project of mine would be complete without some sparkle, so I had a quick look in my stash and found some iridescent blue raindrop sequins, which were absolutely made for this layout! I scattered them across the page, followed by some dots of glitter glue. Finally I covered a few parts of the rain boot design with various glitter glues to add that little something extra.
VOILA! Here is the final result. Don't forget to check out the video, I will link it again here. I hope you are inspired to make your very own scrap-therapy book (make sure to tag me!) and I will be back to craft with you again very soon.
Until next time, stay happy & scrappy! Emma, Project Sparkle.