Hello Lollipop friends!
Some of you may know that I'm currently participating in Fodder School and this month has been all about creating Artist Trading Cards. For those of you unfamiliar with the concept they are cards measuring just 2.5″ x 3.5″ in size (and that's the only 'rule') traded between artists. How you choose to decorate them and what techniques you use are entirely up to you. Think of all the different ways you could decorate this tiny art form! I've had so much fun creating my own mixed media papers under the expert guidance of this months tutor Sarah Chapman and I realise how much I love working in miniature! It's also been lovely to 'trade' with fellow students in Europe, the USA and Canada, there is something special about receiving a little piece of someone else's art!
So….. very much inspired by Fodder School I decided to make some cards using Lollipop papers, ephemera and stickers, not just from the current 'Here comes the sun' kit but also bits and pieces from previous kits (can you spot which kits?). I do love using up stash and nothing goes to waste!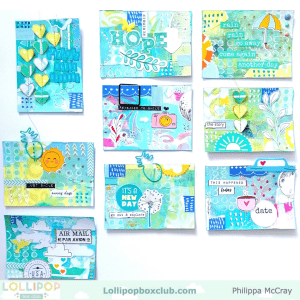 I started by cutting out my cards from painted card (This was basic white card stock that I'd use for a 12 x 12 layout) in my stash in colours that best suited this months kit papers. You do need something with a bit of weight to it for your base layer, especially if you are planning to use mixed media etc.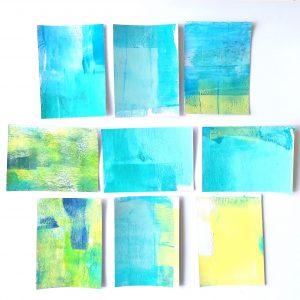 The next stage was to gather various Lollipop paper packaging scraps and by that I mean, paper bag papers and tissue. I randomly stuck bits down using a glue stick without thinking about it too much and not using my scissors!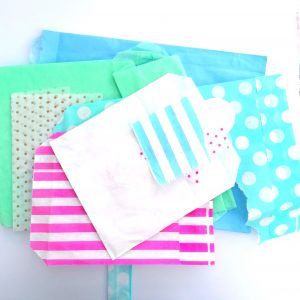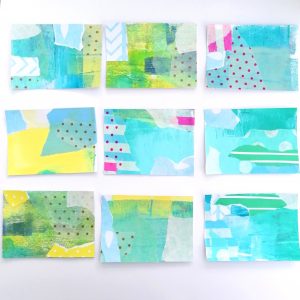 Using the cut apart sheet from the 'Here comes the sun kit' I used little pieces to embellish my cards further.
I thought it would be fun to add some stencilling using Distress Oxide inks by Ranger and I pulled out three of my favourite colours, Salvaged Patina, Twisted Citron and Picked Raspberry. I used a sponge applicator to do this, I mentioned these applicators in a previous blog post and I have to say they have revolutionised my stencilling!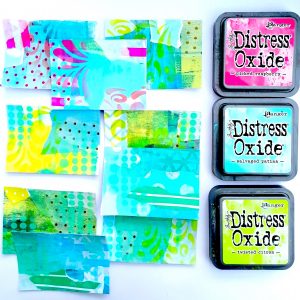 The final stage was, for me, the most enjoyable. The tiny alphabet stickers were used to create a quote on one card, my smallest heart punch to make the strings of hearts (which I ran through the sewing machine) and I added ephemera pieces, Mrs Brimbles stickers, some paper clips, a tab from a previous kit and some enamel dots. I added some marks using a white Posca pen, a gold metallic pen and ordinary felt tip markers.
I love how fresh and fun they look!
It is usual when you 'trade' a card to write your name on the reverse, contact information i.e. an email address or Instagram name and if you've produced a series of cards the number i.e. 1 of 9 however, I thought it would be fun to offer my cards for trade within our wonderful Lollipop group so I have left the reverse of my them plain so that they could be used as a journalling spot if required.
I am arranging a swap in the group so if you'd like to take part please follow the instructions in the FB group here. It would be great if we can spread a little love within our group.
Until the next time…… Happy Crafting
Love Philippa x