Sprinkle Joy Christmas Ruffle Embellishments by Emma, Project Sparkle.
Want to skip straight to the video? Your wish is my command! Click here.
Hello! I'm thrilled to be back sharing some more creations with you using the latest kit, Sprinkle Joy. What a fabulous name and a wonderful sentiment! We should all try to sprinkle joy absolutely everywhere, for ourselves and each other whenever we can. This month I am definitely feeling the Christmas spirit and wanted to make something festive, so I came up with these colourful ruffled paper embellishments, with added snow and Pom-poms to maximise the merry!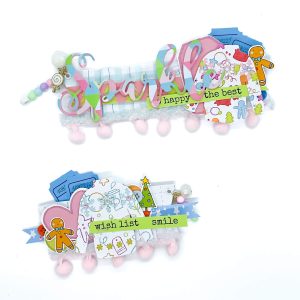 Are you team colourful or traditional for Christmas? I had loads of fun playing with all the bright colours in this kit, it's so fun to try something different, and I may have been converted to team 'colourful' for Christmas! As usual I have a video process for you, I will link it here.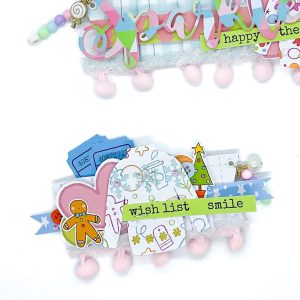 Using the kit papers I cut 1.5 inch strips and folded them to create my ruffles, which I secured with double sided tape. I used some metal dies from my stash and layered those with the tickets and die cuts from the kit, adding the adorable stickers peeking out and of course lots of sparkly gems.
I added some faux snow onto these to add another wintery touch and some wink of Stella because Christmas is all about the sparkle! Finally a tiny eyelet and some wire wrapped beads, as the finishing touch.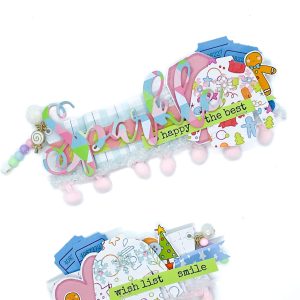 These ruffles are great for decorating happy mail packaging or just for gifting to crafty friends as they are. You could even pop them onto your wrapped Christmas presents for some extra pizazz! If you give these a go, I would love to see, so don't forget to tag me!
Craft again soon,
Emma, Project Sparkle. Xx