Today is Your Day – New March Kit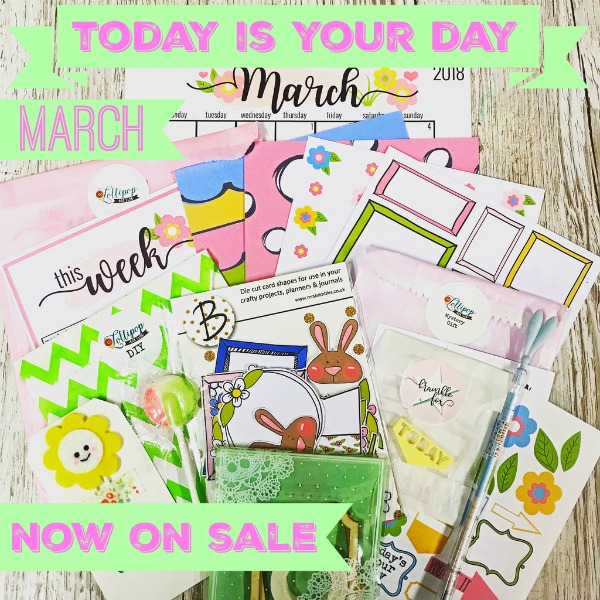 Here is your new kit – March 'Today is Your Day'
It's all about embracing your day. Being positive and making the day your own. As we start to see the first signs of Spring appearing, new growth, longer and lighter days and the warmer sun. Start your day with fresh and new positive thoughts.
This kit is pretty and cute. It's filled with happy colours and lots of fun bits and pieces and you may just spot a fun and new collaboration this month. Can you spot who it is??? The lovely Mrs Brimbles. We are also collaborating with Bramble Fox this month.
You will receive a set of exclusive patterned papers, a stamp, stickers, lists, embellishments, washi, the cutest & smiliest planner clip, a bunny pen, a DIY kit, a treat bag full of surprises, a Mystery Gift and if you are a subscriber you will also receive an extra mystery gift. It's my birthday month, so I'm treating all my lovely subscribers.  There will also be other surprises that I haven't mentioned.
A few subscribers picked at random will also be receiving a little something extra in their kits this month.
You can subscribe to this kit here. Subscribers also receive codes for free downloads.
You can also buy a 'One Off' Kit here – £18.00 – FREE UK DELIVERY
All March kits will be sent on the 17th March.   Our boxes are post box friendly, so they can just pop through your door, you don't have to be in to receive them.
Keep an eye out on Facebook, Instagram and here on the blog for updates on the progress of these kits so you can see them being made. packed and shipped.
And don't forget to join us over on our private chat group here.
Please note that as of 1st Feb the One Off kits have increased by £1. Subscription prices will remain the same until the 17th March when all NEW subscriptions will also increase by £1. Remaining subscriptions will not increase.   Please see the end of this blog post here for full details. Thank you.