January Kit Story & What's Still to Come….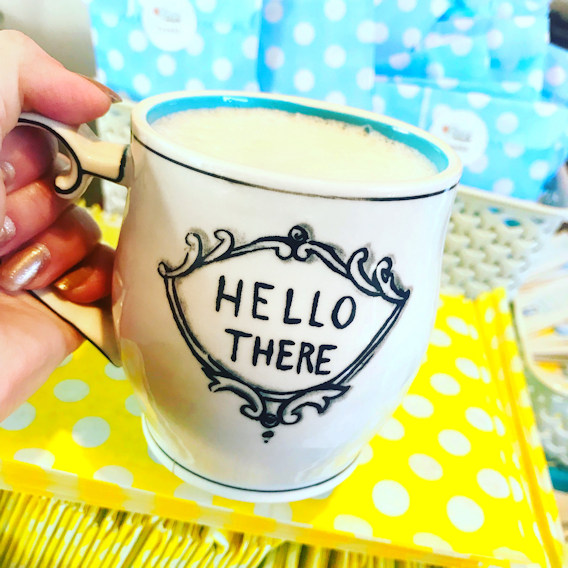 Hello There!!
So, the January kits were shipped last night (…and breath!!) You have no idea how good that feels : )
I thought I'd share with you how things went this month and what's still to come. My feeling about Lollipop Box Club were that it was never just about the kit, it was always the whole package. The blog to support the kits and everything else.
I was pretty much on my own for this month's kit packing. Hubby has been really busy with work, he did get the first 150 boxes assembled and stuck in the welcome letters and he also taped up all the boxes once they were packed, but that's been it. The rest was down to little 'ol me this month.
My word for 2018 is 'simplicity'. It's made me really want to rethink my whole kit making/packing process. I feel like the kits have been reborn. I'm so pleased with the fresh new look. I hope you will love it too.
I changed up how I pack the kits and I can't believe what a difference it made. With numbers increasing it was taking me 4, 16hr days to pack. My feet were killing, my back was just awful as I'm on my feet the whole time. This month was a huge improvement.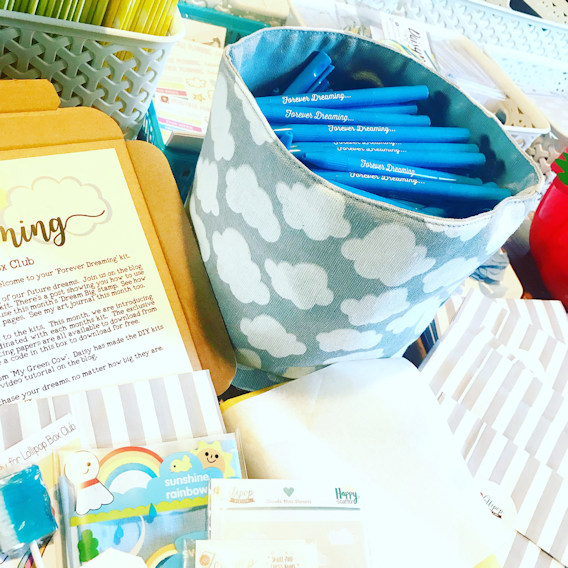 I had Netflix on whilst I packed. I started a new box set and watched a couple of RomComs too. Whilst I continued to pack in the evenings hubby and I watched Fear of the Walking Dead, we've just started Season 3 and we've also started a couple of new ITV dramas. Kiri and Next of Kin. Do love a drama!! Having something on in the background really does help. The days and evenings packing on your feet are very long.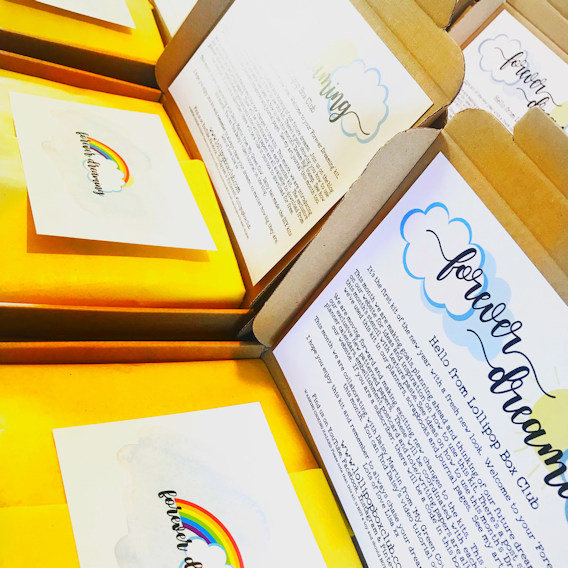 Meal planning is always very important at this busy time of the month. I still like to make sure that we have a good home cooked meal and that we eat together as a family. I have to plan quick and easy meals as I know I don't have the time to spare in the kitchen. It's usually things like baked potatoes and crockpot meals.    I did try a new recipe last night. Sweet Chilli Prawn Noodles.    
It's a slimming recipe and so delicious. Really quick too. The fussy one had a pick and as most evenings 'wasn't quite to his liking' **rolls eyes** but then what's new??!! Tough really as we all liked it and I think it will become a regular on the menu from now. If you don't like prawns, you can substitute with chicken, quorn, mushrooms and veggies. Anything really.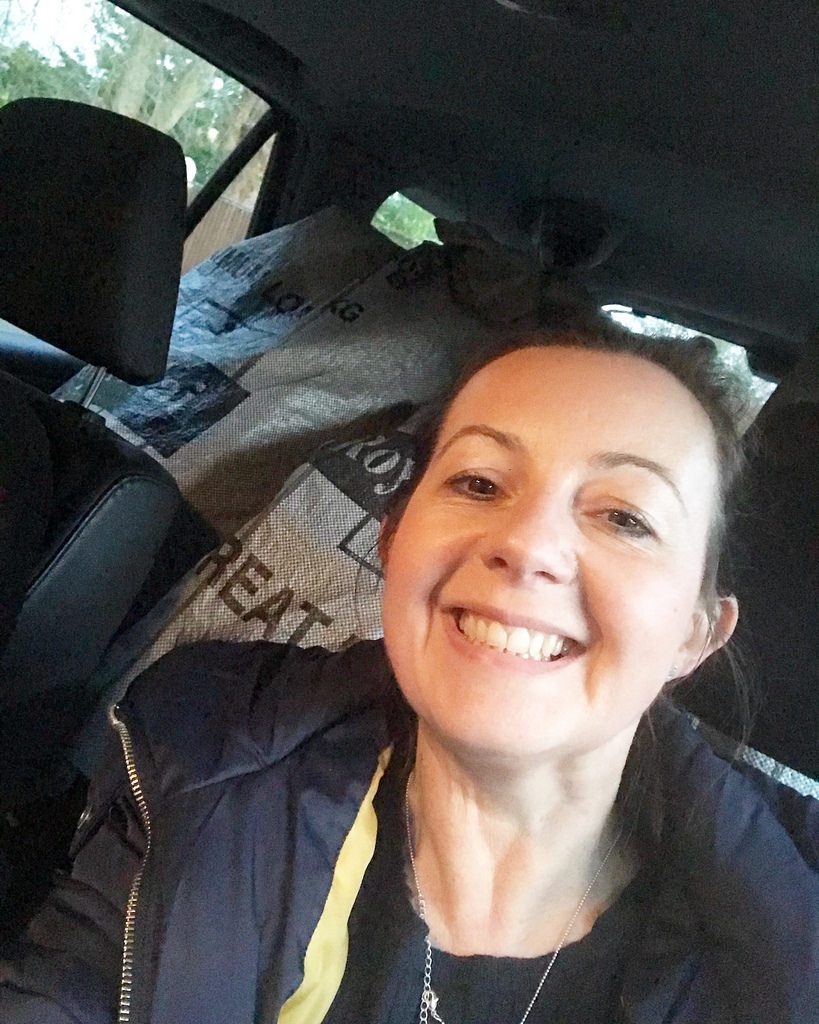 Ade (hubby) always gives me a lift to the post to drop off the mail sacks. We have so many and they are so heavy. I'm always so grateful for this help.
So that's it for the January Kits!!! They should start arriving from tomorrow in the UK (Friday 19th )
What's still to come???
I have a little video for you for this month's DIY. This will be with you in the next day or so.
I also have blog posts next week from our amazing Creative Team and a fun guest designer too. Anna from Mrs Brimbles!!  Loads of inspiration to go with this months kit. One can never have enough ideas right?!
One final thing……
Lollipop Box Club will be 3 in May. Despite everything around me increasing in price (postage, ink, paper, boxes, suppliers) I haven't passed this on to my own customers. I have also seriously increased and improved what I put in the boxes. When I look back to my first kit.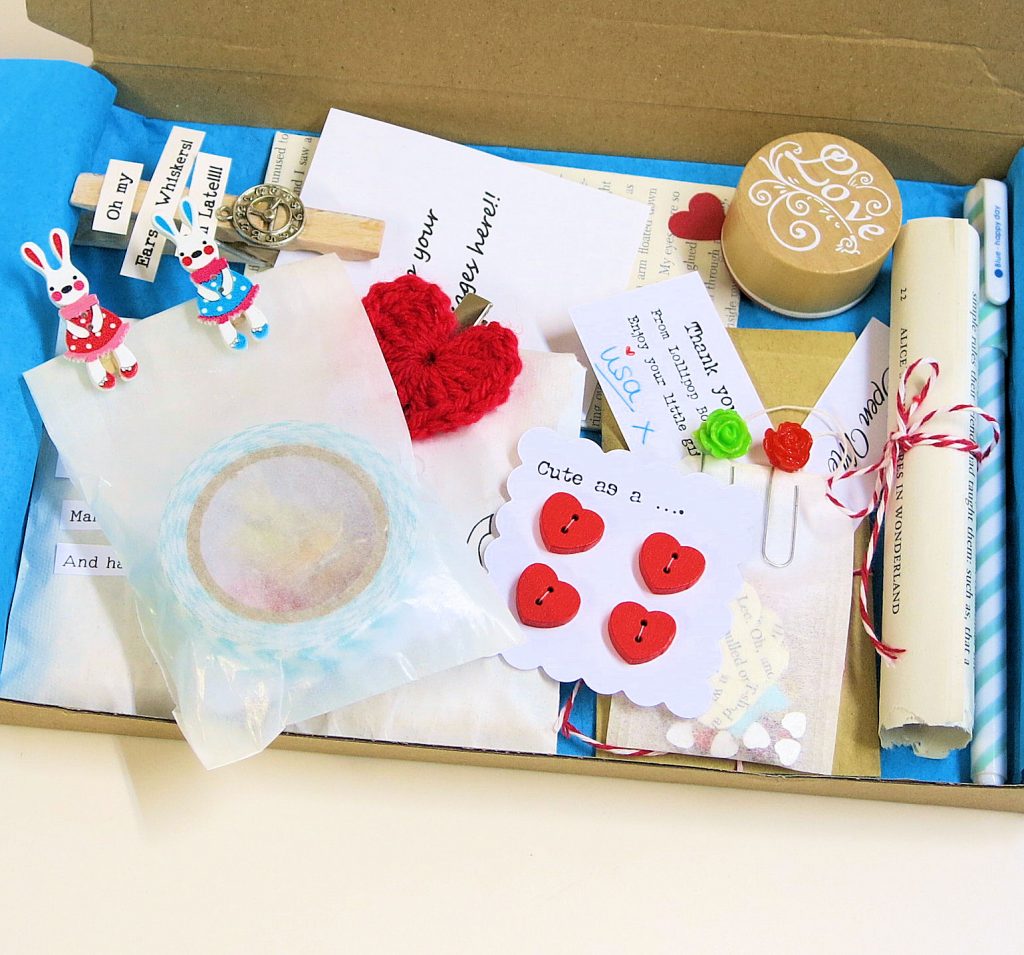 And compare it to what's in the kits now.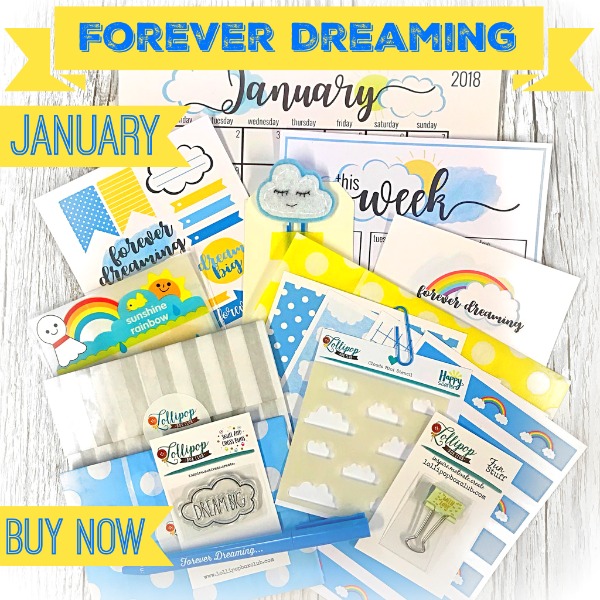 There's just so much more, plus most of it is now completely exclusive and we have the addition of the stamps, stencils, stickers, lists, papers….there's so much more.
I've decided that from 1st February the 'One Off' kits will increase by just £1. They will go from £17 to £18. And from April Kit (subscriptions open on 17th March)  the new subscriptions will also increase by just £1.
Please don't worry, if you already subscribe your price will remain the same. However if you cancel and then return in the future, please be aware that your returning price will be at the new subscription cost.
I hope you understand and still feel that you get so much value in your little boxes. I will put out reminders again nearer to the time and hope that you appreciate the advanced warning.
I really hope that you will love the new look of the kit. Please do let me know. As I've said before, I make these kits for you, so any feedback is helpful. Either leave a comment here or join us on our friendly chat group here.
Thank you so much.
I hope the posties don't hold on to your kits for too long.
Lisa xx